Celebrate Native American Heritage Month
These five great books for toddlers to teens are all written by Native authors.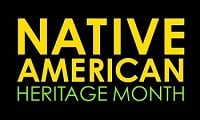 When we think of November, we often think of Thanksgiving and the first European settlers. This November, spend some time with your little ones learning about the rich stories and varied cultures of Native Americans.
My Heart Fills with Happiness by Monique Gray Smith – (toddler) A perfect little book about being thankful for the small things in your life that make you happy. Lovingly illustrated and good for any family.
Kamik: An Inuit Puppy by Donald Uluadluak – (preK-2nd) Jake can't wait for his new puppy to be a fast, strong sled dog. But he has a lot to learn about how to train his dog in the way Inuit peoples have done for many years. Adorable illustrations and lots of connection activities could be done.
Jingle Dancer by Cynthia Leitich Smith – (K-2nd) A young girl tries to gather items to create the "jingle" for her jingle dress to dance at her first powwow. Touching and lively, this has great meaning and a lot of heart.
In the Footsteps of Crazy Horse by Joseph Marshall III – (3-5th) Jimmy has a white father and a Lakota mother, and he gets teased a lot in school. When he visits his Lakota grandfather, they go on a road trip that follows the path of Crazy Horse, Tasunke Witko, who also was teased and called Light Hair as a boy. A truly amazing semi-autobiography that gives insight into a Lakota tragic hero's journey tale.
My Name Is Not Easy by Debby Dahl Edwardson – (6-9th) Set in the early 1960's, Luke is shipped off to a Catholic residential school. He doesn't like to use his Iñupiaq name, because white people have trouble saying it. His language, his hair cut, his clothes, all are to conform to the standards of the school. Children are given to white families, kidnapped without consent from their families, sent thousands of miles away from friends and loved ones. A difficult book that deals with real abuses and scars that Native Americans suffered just fifty years ago. This title was a National Book Award Finalist.