Celebrate Celtic Culture at the Annual Latta Celtic Festival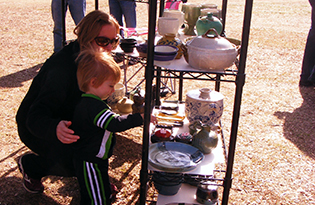 Bring the young lads and lassies to celebrate the rich Celtic culture at the third annual Latta Celtic Festival at Latta Plantation March 14-15 from 10 a.m. to 4 p.m. With history dating back to the seventh century, the Celtic culture includes generations of stories, song and dance. Peek young minds with woodworking demonstrations that show how different objects were made before more modern woodworking equipment existed. Curious about Celtic warriors? See demonstrations that show exactly who they were and why they were so important, from medieval times to World War II. Tour the 215-year-old Latta Plantation house, and see open-hearth and campfire cooking demonstrations.
Settle in for a story-telling session, see Celtic dances throughout the day, and try authentic Celtic food. Of course, it wouldn't be a festival without music. Thistledown Tinks, Sterling Bridge and the Loch Norman Pipe band are just a few of the bands taking the stage at the Celtic Concert Fundraiser, Saturday from 6-9 p.m. Proceeds benefit Latta Place Inc., a nonprofit organization that manages the 215-year-old house and grounds upkeep, as well as the educational tours and community events throughout the year.
Children can also enjoy face painting, farm animals, pony rides and themed games. Be sure to bring cash to take home a handmade toy for your child from one of the toymakers at the event.
The event is $7-$8, free for children 5 and under. Families can purchase a day pass that includes the concert for $15. Historic Latta Plantation is located at 5225 Sample Road, Huntersville. For more information about the festival, visit lattaplantation.org.