Caught in the Middle: The Sandwich Generation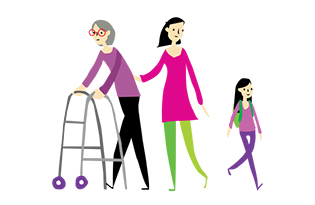 A new generation has emerged in the stage of life. Known as the Sandwich Generation, it is the group of people who are raising kids and also serving as caregivers for their aging parents. Many adults are choosing to have children later in life, which coincides with the aging of their parents, and family responsibilities pose a new set of challenges.
The responsibility of caring for an aging parent can be life-altering. Pressed for time and energy, the family caretaker juggles many responsibilities while trying to give their love and attention to every family member. Start using these steps from Charlotte-based family psychologist Dr. Melissa Tate to help avoid burnout, make time for everyone — including yourself, and protect your emotional well-being.
Build a Strong Family Foundation
"A stable and solid family foundation must be in place prior to taking in a loved one," says Tate. An addition to the household increases responsibilities and can multiply stress. Being physically able and financially secure are important components. A strong family foundation is essential to increase the chances of a more positive new situation.
Enlist Support
It's important to acknowledge you can't do it all, so set realistic limits on how much you can handle. "Be open to ask and accept help in any form," says Tate, "by contacting siblings and extended family members about ways they can help out." Support from family members helps to ease your guilt of being stretched between children, parent and spouse. Whether it's taking care of grandma while you run errands, a relative picking up your kids from school or a sibling buying groceries, these are wonderful ways that family can lend a hand. Age permitting, your kids can help out with household chores.
Utilize Community Resources
Reach out to local agencies for outside assistance. An elderly parent might be eligible to take advantage of Medicaid programs such as local transportation or an adult daycare program. Attending a day program gives an older parent a great outlet to get out of the house, socialize with peers and give you a break from caregiving.
Take Care of Yourself
Being a caregiver for many can be overwhelming and make stress levels skyrocket. Resentment can build, leaving you frustrated and angry. Set aside some personal time to decompress and recharge. Go to a local coffeehouse, hit the gym or attend a yoga class. "Find the right outlet that lets you replenish your tank before you run out of steam," Tate advises. If you're not well-balanced, you won't be good for yourself or anyone else in your life.
A Family Meeting
"Set a timeframe with loved ones to evaluate the situation, whether it's three months or six months from the time the parent has moved in," says Tate. Gather everyone around to discuss what has been working and what hasn't. Ask for more help if needed. If things are just not working out, discuss the parent moving to another family member's household for a temporary stay to see how it works. Alternating between households might be a good solution to best suit everyone in the family.
Sara Kendall is a freelance writer and mother of two daughters who lives in Charlotte.