Catawba Science Center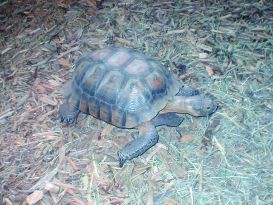 Want to get your kids excited about science and nature? It's easy to do at the Catawba Science Center in Hickory. A family trip with our 4-year-old daughter Anna recently revealed that children (and parents, too) can spend several hours together exploring and learning at this combination museum, aquarium and planetarium.
After buying our tickets at the gift shop, our first stop was the Naturalist Center, featuring a baby alligator named Swampy 2 (the first Swampy, we found out, grew too big and was sent to Alligator Adventure in North Myrtle Beach). We also saw an African spur tortoise (which, we learned, was left on the center's doorstep one night) and a desert tortoise.
Friendly volunteers answered questions and engaged visitors with information about the Naturalist Center's fossils, skeletons and skins. The children in our group — two 4-year-olds and a 6-year-old — loved combing through the drawers of fossils and shells, looking for familiar animals.
Our next stop was the multi-room exhibit area filled with science experiments. It was fun watching the kids play … and the parents trying to remember their physics lessons! We were pleased to discover the displays come with simple explanations and questions to get aspiring scientists thinking about the principles of energy, gravity and force.
Children rolled golf balls down straight and rolling slopes, peddled a bike to create energy to light a bulb and made waves to watch beach erosion. The favorite in our group were the pulley chairs: Kids and Parents of all strengths and sizes sat in the chairs and pulled themselves up with a rope or raced to see who got to the top first.
At the temporary exhibit, TreeHouses — Look Who's Living in the Trees (running through May 16), we saw live barred owls and gray squirrels, and we listened to the songs of crickets, frogs and birds. Learning about what's in our own backyard, the children in our group had fun identifying all kinds of noises.
Before heading to the aquarium and planetarium, we took a break for lunch. There isn't a restaurant on site, but we brought a picnic to eat in the garden outside.
Refreshed and ready for me, we walked to the separate building that houses the aquarium and planetarium. While the aquarium is small, it certainly made an impact on us with its freshwater and saltwater galleries. Anna was able to get a good look at what's swimming around in the open, low tanks, and she really enjoyed the touch tank, which teemed with sharks and stingrays. Many of the creatures came to the surface for petting, both scaring and delighting all the kids.
The Hall of Astronomy outside the planetarium takes visitors to Mars, with a chance to pilot a robotic arm, make dirt devils and explore the surface of the Red Planet. We did not take in a planetarium show, because the only show of the day was too late for our youngsters to wait.
However, if you do get a chance to see one, shows range from the family-friendly "The Little Star That Could" to the scarier "Force Five, Nature Unleashed," which shows and feels what it's like to be in the middle of a deadly storm.
Our visit lasted about four hours. With so much to discover, the Catawba Science Center makes an enjoyable day trip for kids of all ages.
If you go, you need to know:
Catawba Science Center
243 Third Ave., N.E.
Hickory, NC 28601
828-322-8169
On the Web:
www.catawbascience.org
Hours and Admission:
Tuesday-Friday, 10 a.m.-5 p.m.; Saturday, 10 a.m.-4 p.m.; Sunday 1-4 p.m.
A regular ticket covers the exhibits and aquarium: adults, $6; kids 3-18, $4; kids under 3, free.
A combo ticket includes the planetarium: adults, $7; kids 3-18, $5; kids under 3, $3.