Carolina Renaissance Festival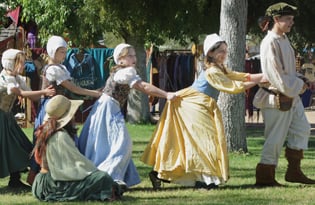 Going back in time doesn't require a time machine. It's just a short drive away every weekend in Huntersville at the 17th annual Carolina Renaissance Festival, Oct. 9-Nov. 21.
Where else can you meet kings and queens, jesters, jugglers and everyday folk from the 1500s? Once you hand over your ticket and walk through the main gate, you enter a 20-acre medieval town filled with shops, food, games and entertainment.
Kids love Da Vinci's Flying Machine, the world's largest rocking horse, as well as the petting zoo and elephant rides. One of the best things about the festival is the way the kids' activities are spread throughout the site. Children can fling plastic frogs at a target, or collect gold coins in the maze. Games and rides generally range $1-$5, and many guarantee kids receive a prize. There's also a children's play area with a pirate ship in the middle of the site near the hot-food vendors, so the kids can play while before the gang continues on to the gypsy village and jousting arena at the back of the site.
While there are tasty treats throughout the park, there's bakery and a coffee shop near the entrance. Vendors also sell turkey legs and bread bowls filled with soup. There are some kid-friendly choices, such as pizza as well, and portion sizes are filling. There are plenty of benches for sitting, or bring your food to one of the nearby stages and enjoy some live entertainment.
Entertainment runs on 10 stages, as well as at the jousting field. Kids delight at the juggling show and the falconry demonstration. Along the way, they can get their photos taken with Mother Goose, a dressed-up live goose, or Twig the Fairy, who walks through the festival. Make sure you pick up the schedule of events as you enter. While some shows may have a bawdy tone adults pick up on, most kids will not. Just in case though, the schedule marks shows that are inappropriate for children with an "LC" for Loose Cannon.
There are three jousting shows throughout the day, each with a story line leading up to the final "joust to the death." Get to the arena early if you want to see the final joust. Snack and beverage stalls are nearby to help cool you off while you watch the show — this is one of the few areas that isn't shaded. The royal stables are to the left of the jousting field, allowing kids to see some of the horses before or after the show.
My family has gone on Halloween weekend for several years, because it's a great place to trick or treat, and children are admitted free! Many of the shops and vendors have goodies for the kids, and there's a Halloween treasure hunt and costume contest.
To make the event more financially friendly for families, there are two additional weekends when kids get in free. On Oct. 16 and 17 — Sci-Fi & Fantasy Literary Weekend — get one child's admission free with one paying adult by donating school supplies at the festival entrance or at participating Barnes & Noble store. Remember, children 4 and younger are always free! Also, on Final Huzzah Weekend, Nov, 20-21, bring a canned good to the box office to receive one free child admission.
Kim Justen, is the mother of two and a freelance writer the Winston-Salem area.
If you go, you need to know:
Carolina Renaissance Festival
16445 Poplar Tent Road
Huntersville
On the Web:
www.royalfaires.com/Carolina
Admission:
Adults, $19; seniors, $17; children 5-12, $8. Children 4 and younger are admitted free. Parking is free.
Get $1 off tickets by purchasing in advance at your local Harris Teeter. Also, get two adult tickets for just $20 on opening weekend (Oct. 9-10) by downloading a coupon from the website. There's also an online coupon to get one free child's ticket valid for Oct. 16-Nov. 21.
Hours:
Sat. and Sun., Oct. 9-Nov. 21., 10 a.m.-5:30 p.m.