Camper's Chicago Style Pizza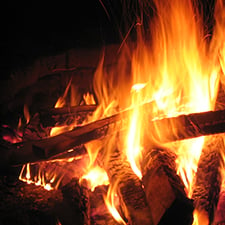 Grilling over the open campfire is a rich tradition. Maybe it's a combination of how the wood brings out food's natural flavor and the ambiance of being outdoors. Whether camping with the family, hunting with friends or simply achieving that wood-grilled flavor at home, campfire cooking is delicious and easier than you might think. Give it a go with this tasty recipe.
Pizza crust mix
1 small stick of pepperoni, sliced thin
1/2 cup spaghetti sauce
8 mozzarella slices
1 small onion, chopped
1 small can mushrooms, drained
1 small can black olives, pitted and halved
Pepper and oregano to tasteMix pizza crust mix as directed on package. Pat out dough to a 12-inch circle and place on grill. Add remaining ingredients. Cover top of pizza with a large piece of tinfoil. Bake until base is golden and insides are cooked. Allow extra time for thicker crusts.
After you've cooked all your food, don't delay in cleaning up. Now with a full stomach you can truly sit back and enjoy nature. Who knows, you might have so much fun cooking over your campfire that you want to do it at home! Use your grill over the bonfire pit at home to get the flavor of the outdoors any time of year.