Camp: Then and Now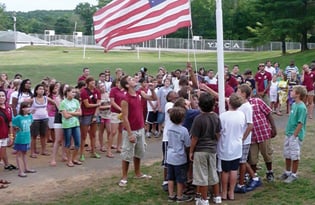 Going to summer camp has always been about gaining independence, trying new things and having fun with friends. While tradition is at the core of the camp experience, camp directors have worked hard over the years to adapt their programs and facilities to appeal to each new generation of campers. What you'll find at camp today is a mix of longstanding traditions and welcome changes.
The various activities often are what initially interest children in a particular camp, according to Jen de Ridder, summer camp director at Camp Hanes in King, N.C. "Camps offer so many different activities that kids can find success in something," she says.
Camp Hanes has added cooking, rafting, ropes courses and paintball to its long list of traditional camp activities. "The ones that have stood the test of time are swimming skills and athletics," de Ridder says, "and just swimming in the lake."
Staying Unplugged
Avoiding technology is one way directors have stayed true to summer camp traditions. "It takes today's kids time to adjust, but they end up being more comfortable in their own skin without constant entertainment 24 hours a day," says Robert Danos, director at Camp Mondamin near Asheville. At Camp Mondamin, kids know the fun they have will be tied to hard work — building outdoor skills. "The harder they work, the better they get, the longer expeditions they earn, and the more fun they have," Danos says.
A few camp activities have been altered over the years because of technology, even though directors remain diligent about avoiding electronics onsite. "Our photography program is one that is changing," says Chuck Ackenbom, owner and executive director at Camp Friendship in the Blue Ridge Mountains. "For years, we have offered activities for kids who want to learn how to develop their own film. A few kids are still interested, but more want to learn about digital photography."
Modernizing Accommodations
Cabins and camp facilities have become more modernized over the years, with many programs offering more updated creature comforts. "In the early years, all campers used outhouses," Ackenbom says. "Now bathrooms are in almost all cabins."
Camp Hanes and others are working on adding air conditioning to cabins, as well. "Camp alums sometimes worry that adding A/C will take away from the real camp experience," de Ridder says, "but it's very warm in cabins at night, and the kids are outdoors all day."
Physical changes to facilities can feel like a break in tradition to returning campers and alumni, but the results have brought progress and new opportunities for kids.
Jon Engel fondly remembers walking a dirt path to the lake during his childhood summers at Camp Hanes. "Now that path is paved, and there's a huge, beautiful pool with a basketball goal and zero entry," he says. "It was shocking to me at first, because it was different, but what it means is more kids can swim because of updates, like wheelchair access."
Regardless of how updated the camp accommodations, Engel says it's the relationships that will keep kids coming back. "They become enveloped in the history and become a part of it. They don't remember why they chose the camp," he says, "but they're hooked."
Continuing the Culture
Summer camp fun comprises various traditions like, songs and campfires. The "Little Green Frog" song was popular when Engel first attended Camp Hanes and is still sung today. "It's very silly and elicits a crowd echo that bounces off trees across the lake," he says. "It's a lot of fun."
Girls at Keystone Camp in Brevard know that every year, they'll hike to the top of a mountain to build a campfire and listen to the camp director tell stories about how the camp began. The camp has been directed by different people over the years, but each of them has been closely related to the original owners, including today's director, Page Lemel, a fourth-generation director at Keystone.
"Traditions today are very much the same at Keystone," says Creigh Brown, a camp alumna whose mother, sister and daughter have shared similar Keystone summers. "It's comforting to see girls continuing the tradition of wholesome but adventuresome experiences."
Shifting Demographics
Broader diversity has been a welcome change to camp culture over the years. Camp Friendship has hosted campers from 89 countries since its inception. "We have 21 flagpoles in our dining hall," Ackenbom says. "Some weeks we have all 21 flags flying, representing current campers."
Improved camp diversity also brings a wider spectrum of camper ages and socioeconomic backgrounds. Camp Hanes has seen a recent surge in registrations for teens.
"We offer a safe place to make friends in an easier environment," de Ridder says. "Kids don't have to worry so much about being accepted."
Communicating With Campers
Staying in touch has changed for moms and dads, but not for kids. "Parents can send their campers e-mail instead of letters," Danos says. "We print them out daily and hand them out to the kids."
Many camp websites also offer daily photo and activity updates to help parents stay connected while kids stay enveloped in their camp experience without access to computers or phones. "It's a one-way mirror, allowing parents to check in and see how their kids are doing and what's going on," Danos says.
Websites also have brought cost-savings and efficiency. No need for mailing bulky forms, and signing up happens as quickly as the click of the mouse. "Eighty percent of our campers fill out registrations online," Ackenbom says.
Camp Friendship registered 15 campers when it opened in 1966 and now hosts more than 400 kids each summer. Websites feature lists for packing and preparing for camp, too. Ackenbon adds, "Our postage bill has dropped dramatically. We've saved thousands of dollars."
Care packages are another longstanding tradition that families feel connected while kids are away. "Parents used to send homemade care packages," de Ridder says. "Today, (Web-based) companies are offering prepared care packages, made-to-order with an assortment of Mad Libs, games and other knickknacks, like stuffed animals that all of the kids can sign."
Eating Healthier
Camp food has fluctuated over time. As families have become more focused on nutrition, camps have met those needs. "In the 1970s and '80s, it was the smarter way to go to use food service organizations," Danos says. "We realized in the early '90s that it was healthier and better-tasting to hire our own chefs, bake our own breads and buy locally."
Camps understand, too, that today's kids need more activity and less junk food. "Afternoon snack is always fruit," de Ridder says. "We offer lots of water and limit desserts to evenings through the camp store."
An increase in food allergies has brought about even more change in the camp kitchen. "We don't keep a lot of peanuts or peanut oil onsite," de Ridder says. "We also notice a lot more kids who are vegetarians. People are just generally more aware when it comes to nutrition these days."
Camp directors agree that although some changes have taken place over the years, the camp experience has stayed true to its original goal of offering a fun escape from everyday life. The secret handshake among campers holds the relationships, memories and history kids and teens share. "That's the positive energy that keeps kids coming back year after year," says Engel.
Mary Parry is a freelance writer and mother of three who lives in Chapel Hill.
Affording Camp
Tuition for accredited camps can vary from $75 to more than $800 per week, according to the American Camp Association. Money doesn't have to be a barrier for kids today. The ACA lists avenues of support available to help families afford camp tuition.
Assistance from camps. Camps offer special discounts for everything from early registration, full season or multiple enrollments from one family. And, 90 percent of camps offer "camperships" — partial or total scholarships and financial assistance.
Assistance from the U.S. government. Some camps participate in income-eligible subsidy programs, for instance through Title XX. Also, a Dependent Care Flexible Spending Account allows parents to use pre-tax dollars for child-care expenses for qualified dependents that are necessary to allow parents to work, look for work, or attend school full time. Day care expenses, including transportation by a care provider, may be considered dependent-care services and paid with pre-tax dollars in certain circumstances.
The IRS allows an income tax credit of up to $6,000 of dependent-care expenses if you have two or more dependents (up to $3,000 for one dependent). The Child and Dependent Care Tax Credit applies to qualifying day camp expenses, as well.
Originally printed at www.CampParents.org. Reprinted by permission of the American Camp Association. ©2011 American Camping Association Inc.