Burn Bootcamp Fitness Class Designed for LKN Moms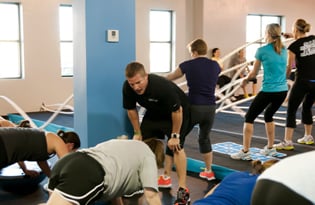 The following article was published in the March 2014 issue of LKN Parents magazine.
A new fit community of moms is growing in Lake Norman. Formed in the Lake Norman area in spring 2012, Burn Bootcamp is a fitness program created just for moms and currently has over 600 members at six locations, including three in Lake Norman: Huntersville, Cornelius and Mooresville.
"Burn Bootcamp is for busy moms and women alike," says Devan Kline, Burn Bootcamp owner and head trainer. "Our experienced trainers take pride in holding all our moms accountable for reaching their fitness goals."
Kline, who played one year in the baseball minor league and has always had a passion for fitness, created Burn Bootcamp after one year in the minor leagues. During that year, he stayed with a host family and trained his host mom in the minor league weight room.
He saw how her physical changes in the weight room positively affected her family relationships at home. This started his passion for training mothers, and paved the way for Burn Bootcamp.
Burn Bootcamp creates a community that is inviting for moms at all fitness levels. "The workouts are in group settings, but each participant will develop a personal relationship with their trainer," says Kline.
The moms find motivation from each other just as much as they do from their trainers. "I have developed some wonderful friendships through Bootcamp," says Ozlem Cankurtaran, a bootcamper at the Huntersville location, and mother of two daughters: Alara, 5, and Tuana, 4. "We are all like-minded people, very supportive of each other and a little bit competitive at the same time."
Cankurtaran usually goes to early morning classes. "It is not easy to get up and be to Bootcamp by 5:30 a.m., but it is a great feeling to know that I do something for myself each morning. I feel very good about myself, even when exhausted."
New members complete a head-to-toe body diagnostics test which is used to set goals and an accountability schedule. Members perform this same body assessment every three weeks to mark their progress.
Each location offers multiple 45-minute session times during the day to fit any mom's schedule, with free child care at specified times. Every session is a 45-minute combination of strength, cardio and athletic conditioning.
"Members never have the same two workouts," says Kline "that's what really makes it fun." The exercises follow a progressive system, so members advance to more difficult sets at their own pace, and each drill has five to eight modifications.
Trainers work with the bootcampers one-on-one to make any exercise easier or harder. "Burn Bootcamp is physically challenging and pushes me to do more than I would if I were on my own," says Cankurtaran.
To complement workouts, members are also encouraged to follow nutrition guidelines set by their trainers. "All members receive emails with nutrition tips and information," says Kline. "They also have focus meetings with their trainer to discuss nutrition in one-on-one or small group settings."
The success of Burn Bootcamp is expected to expand to five more locations in the Carolinas by summer 2014. Information on memberships, specific locations and times is online at burnbootcamp.com.
Megan Finke is a freelance writer who lives in Charlotte.
DID YOU KNOW?
Burn Bootcamp is a designated Fit Family Challenge Fitness Class location. Attend free classes* from April 15-June 9 to earn points in the Fit Family Challenge. Restrictions may apply. Learn more »
Read More:


View all Family Wellness articles