Bunco! Charlotte Moms Enjoy the Roll of the Dice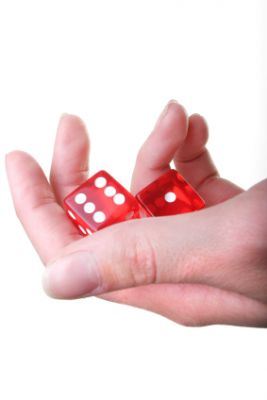 In the past several years, Bunco groups have been sprouting up all over the United States, and Charlotte is no exception. It is the perfect setting for moms of all walks of life to converge on common ground and let their hair down.
According to the World Bunco Association website, groups of women, school children and couples have been playing the progressive dice game in the United States since around 1855, when a shady gambler introduced the concept in San Francisco during the Gold Rush.
Most moms in the Charlotte area are either in a Bunco group or know someone who is. Sadie Ritchie, who belongs to the East Group of www.charlottemommies.com, has been attending a regular monthly game for the past two years.
"I started playing Bunco when I lived in Florida," says Ritchie, mother of two. "A friend invited me to join with her moms' group even though I didn't have kids. I was the only one who didn't for quite a few years. When I moved to Charlotte two years ago, I missed having a girl night and playing, so I started a Bunco night with the East group of girls. It made me so happy to have something that so many of my new friends can enjoy too."
Most groups need 12 players to start up a game, but it's not uncommon for the number to be bumped up to 16 players, or four tables of four. Ritchie's group has about 25 members on their roster, including substitute players and participants who can't make it on a regular basis. Mooresville mom Christy Forney, who joined her group through www.lakenormanmommies.com in November 2006, says her group recently expanded to 16 players as well, with 10 substitute players on stand-by.
Game Overview
So what exactly is Bunco? The following is an overview of the game, taken from The Bunco Book, First Edition:
• Players take turns rolling the dice and trying to accumulate as many points as possible to win each round. The game is played at tables of four in competing teams of two.
• Players score points by rolling three dice and trying to match the number they're supposed to roll for that round (such as a one or two). They get a point for each die that rolls the number, and if all three roll the number they score 21 points or bunco. They also score five points for rolling three of a kind of any other number (also known as a baby bunco). The player gets to keep rolling as long as they score one or more points with each roll. Once they stop scoring they pass the dice to their left and the opposing team gets a chance to score.
• During each round the teams at the head table try to score 21 points. The first team to score 21 points wins the round and play stops. At all other tables play stops when the head table play stops and the team with the highest score at each lower table wins the round.
•At the end of the round players change seats, the winners at each of the lower tables move up a table, and the losers at the head table move to the lowest table. Players also switch partners at the end of the round, so you never play with the same partner twice in a row.
• During play, players track the number of rounds they win and lose as a team, and the number of buncos scored individually, on their personal scorecard. At the end of the night wins/losses and buncos are tallied and prizes awarded.
More Than Cash Prizes
Prizes are left up to each group's discretion, but most ask each member to contribute $5 to the pot at the beginning of the evening. Some groups are more creative than others. Bronwyn Megginson, a Charlotte mom who lives in Matthews and belongs to two different Bunco groups, has one group that gives prizes at the $20, $15, $10 and $5 levels. The prizes usually go with the season or a specific theme.
"People have gotten plants, beach towels, platters, etc. It is the hostess's choice for the prizes and in my opinion that is the most stressful part of being the hostess … trying to find the prizes you think everyone would like," she said.
Forney's group also lets the hostess decide on the prizes for the evening. "The prizes always have the same monetary value, but can be cash, gift cards, home décor items, etc.," she adds.
Where Memories Are Made
Whether the moms involved work full-time or stay at home with their children, send their children to public or private schools or homeschool, lasting friendships and camaraderie are formed over the Bunco tables. Joining a Bunco group as a regular member or a sub is a great way for any mom to maintain relationships and meet new friends. "I love socializing with the neighbors that I only see once a month and having the chance to meet the new people that move into the neighborhood. It is the new people that usually get invited to sub," said Megginson.
"We had a mother who was expecting in our group and we threw her a surprise baby shower," said Forney. "Each time someone rolled a Bunco that evening she had to wear a baby bib to go along with the theme."
But often the fun doesn't end when the platters of food are put away and the prizes awarded. And for nine years, one of the Winterbrooke Neighborhood Bunco groups went on an annual four-day ladies beach trip until it fell by the wayside a few years ago.
"I love the opportunity to get out and have some adult conversation," says Forney.
Starting Your Own Bunco Group
If you don't have a Bunco group in your neighborhood or want to start one of your own, start networking with acquaintances at work, your children's school and other neighborhood moms. You can find local Bunco groups on websites such as www.charlottemommies.com and www.worldbunco.com. The groups are already established but are always looking for subs when regular players are absent if you want to sit in on a game to get ideas for your own group. Pick one or two nights a month to meet and start a hostess roster.
The hostess can either provide the food herself or everyone can bring potluck. To spice things up you can have theme nights or donate the money contributed to a favorite charity. The web site www.buncorules.com offers free Bunco material such as placards, invitations, official rules and custom score sheets.
Whatever you do, make sure you eat as much rich food as you possibly can; catch up on your gossip and the latest television shows and what you think of the new neighbors who just moved in down the street. Because if you didn't do that, it just wouldn't be a good game of Bunco.