Building Your Child's Financial Literacy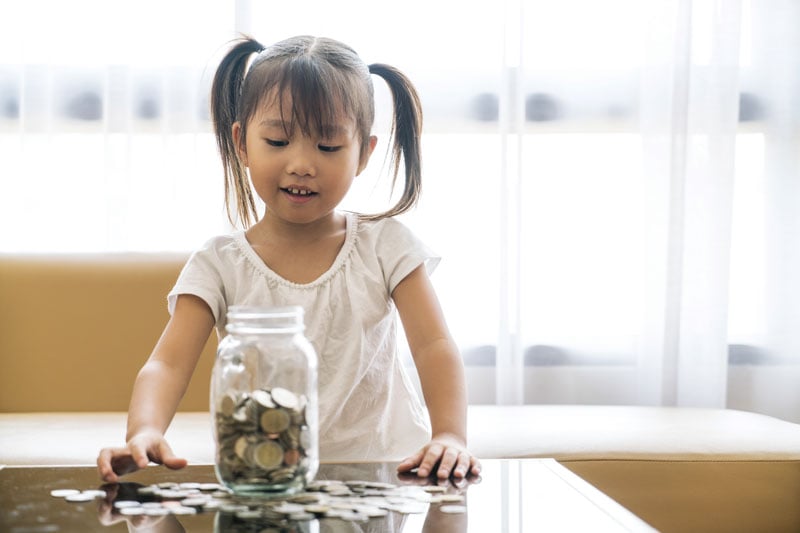 It pays to be a kid. Per a survey conducted by the American Institute of CPAs, 61 percent of parents dole out allowance, most beginning when their child is age 8, to the tune of $65 a month or $780 annually. Nearly half of the parents surveyed also pay their kids for good grades, with an A reeling in an average of $16.60. Just 1 percent of parents, however, report that their children save any allowance.
While many kids are skilled spenders, most need guidance when it comes to giving, saving and managing money earned. These foundational concepts may not come naturally, but with practice, kids can build sound money skills that last. Read on for age-by-age guidance on raising kids with money smarts.
---
EARLY YEARS
Giving Game
Tots can begin to appreciate the importance of saving and giving before they're old enough to receive a regular allowance. "Just Saving My Money" by Mercer Mayer is an early reader that offers a simple, age-appropriate lesson about the link between work and money that even a preschooler can grasp.
Toddlers and preschoolers love handling money — especially coins — so establish the habit of regular giving by allowing your little one to place coins and bills in the offering plate at church or in the donation bucket at the grocery store. By the time a child is 4, he may be ready to understand the concept of giving in even detail, says Ryan Glover, a certified financial planner with Tarheel Advisors in Greensboro.
"A great way to introduce your children to giving is to periodically gift away some of his or her unused toys to the charity or cause of your choice."
---
ELEMENTARY YEARS
Dollars and Sense
Glover says an allowance for grade school children is probably the single most effective teacher of money management skills. "An obvious prerequisite for money management is having money, so starting an allowance early is very important," he says.
It's just as important to ensure that children earn their allowance through the completion of chores to help them understand the connection between work and money.
"When a child links their own hard work with their money, they'll be much less likely to frivolously waste that hard-earned cash," Glover says.
Designate portions of allowance for giving and for saving, then allow your child to spend the remaining allowance as she wishes, provided that purchases don't conflict with family values or rules about nutrition or clothing. It's important that kids feel ownership of their funds and freedom to make purchases that bring personal joy.
---
TEEN YEARS
Debit Drama
While learning to balance a checkbook was once a rite of passage for young adults, it's just as important these days for kids to learn to digitally manage their finances. Managing a basic checking account linked to a debit card can help teens learn to manage financial information online and understand that debit transactions represent actual cash.
Don't be afraid to allow your child to make mistakes with her account, Glover says. An embarrassing "insufficient funds" scenario at a restaurant or movie theater could teach a lifelong lesson that's best learned during the teen years, instead of later in adulthood.
Teens can also learn about compound interest by purchasing shares of stock in a company that offers a Dividend Reinvestment Plan, says Robert R. Johnson, Ph.D., president and CEO of The American College of Financial Services.
"Purchase shares in a company that makes products familiar to kids, like Disney or Nike," he says. Teens watch their shares and their wealth grow — along with their financial expertise.
Malia Jacobson is an award-winning health and parenting journalist and mom of three. "Sleep Tight, Every Night: Helping Toddlers and Preschoolers Sleep Well Without Tears, Tricks or Tirades" is her latest book.