Building Strong Grandparent Bonds
Steps you can take to foster the all-important bonds between your parents and offspring.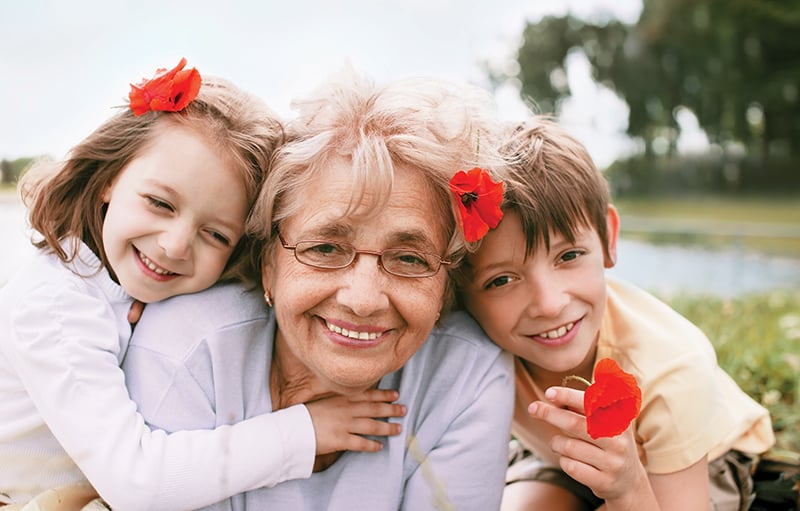 Every time a child is born, a grandparent is born as well. The grandparent-grandchild relationship can be a source of joy for children, parents and grandparents alike, and research links a strong relationship between them to positive health outcomes for children. According to a study published in the journal Family Relations, a strong grandparent-grandchild bond is linked to a lower risk of depression for children of depressed mothers.
Great grandparent relationships, however, don't happen by accident. Parents can take important steps to help foster these all-important bonds between their parents and offspring, says Nicki Nance, a licensed psychotherapist in Leesburg, Florida. Doing so can lead to fewer parent-grandparent power struggles, better communication between members of a child's extended family and a lifetime of warm memories.
---
Early Years
Making a Brand-New Nest
Many new grandparents respond to the birth of a grandchild with gusto, sincerely eager to contribute to the child's care. But to vulnerable new parents, a grandparent's offers of help and advice may come off as overbearing at a time when the fledgling family is trying to establish its own boundaries. Other times, a new grandparent may be unsure of his or her role in the care of a newborn. In either scenario, communication is key, Nance says. Ideally, prospective parents should discuss their expectations about the grandparents' role before their child is born.
Some issues to consider: Would you like your parent or parents to be present at the child's birth? What role do you see your parent or parents playing in the weeks following the birth of your child? And how often do you envision your child spending time with grandparents on a regular basis? Pondering these questions together can help you avoid wounded feelings and boundary violations, as well as get the grandparent-grandchild relationship off to a strong start.
---
Elementary Years
Going the Distance
Per U.S. Census data, only four in 10 Americans remain in their hometown for life. This means that for many families, long-distance grandparenting is unavoidable. For Julie Gates, co-host of "The Gene & Julie Show" on Mix 101.5/WRAL-FM in Raleigh, exploring her family's cultural heritage with her 11-year-old daughter Sophia has helped build a long-distance grandparent bond.
"Part of our family tree traces back to Ukraine, so when Sophia had the opportunity to select a country for a school project, we jumped on it. Looking at photos and hearing stories of life in Ukraine for her family many generations ago was incredibly bonding for Sophia and her Papa. He loves doing the family tree work and enjoyed sharing his favorite hobby with his granddaughter," she says.
Gates also embraces the Danish heritage from her mother's side by serving rice pudding and Danish pancakes for Christmas. Continuing these beloved traditions with Sophia makes her grandparents feel honored and respected, she says. "We feel connected to both our heritage and two people we love with all our hearts."
---
Teen Years
Bridging the Digital Divide
Teens may seem busy, moody and more interested in a device than in spending time with family. But fostering a strong grandparent bond through the teen years can pay off. A University of Oxford study found that for ages 11-16, strong grandparent relationships were linked to fewer behavioral and emotional problems.
To encourage a stronger bond between your teen and your parent or parents, think digital. Technology can bridge them, Nance says, particularly when grandparents are willing to embrace texting, chat and social media platforms that are popular with teens. Even if a grandparent is a whiz with an iPhone, it still doesn't hurt to ask a teen to show him or her the ropes. When grandparents ask teens for help with their computer, tablet or smartphone, it gives the teen a chance to shine and can help start a meaningful, memorable dialogue.
---
Malia Jacobson is an award-winning health and parenting journalist and mom of three. Her latest book is "Sleep Tight, Every Night: Helping Toddlers and Preschoolers Sleep Well Without Tears, Tricks, or Tirades."