Building Rapport With Your Child's Therapists
Tips to ensure a healthy parent-therapist connection that sets your child with special needs up for success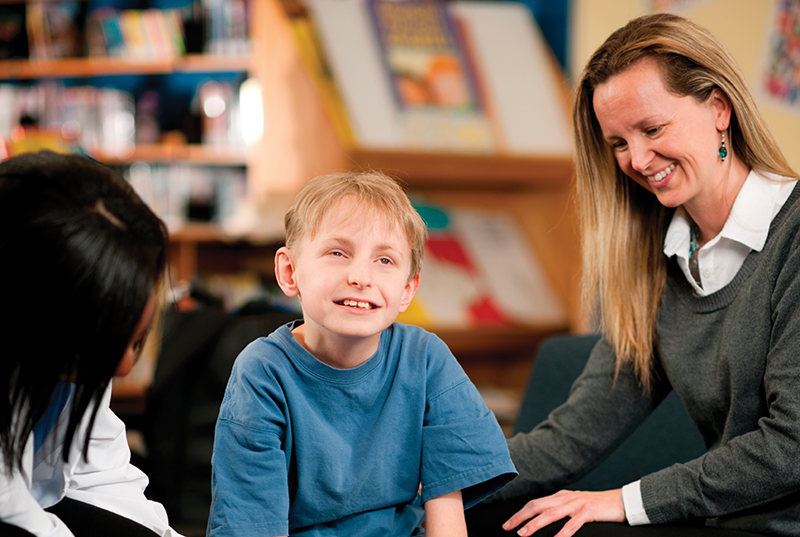 When my son started seeing occupational, physical and speech therapists 12 years ago, I was overwhelmed. Being bombarded with exercises and new terms left me feeling intimidated. It was my first experience with therapists, and I did not know how to approach the situation.
Over time, I learned that the relationship I built with my son's therapists would greatly affect his progress. I made choices about how to communicate and interact with his therapists, ensuring they would be motivated to help my son succeed. Here are key components to developing that rapport.
---
Build a Team
Kenna Moore, from Charlotte, was born prematurely at 24 weeks and has been receiving therapy since birth. Her mom, Nicole Andrews Moore, 42, sought to develop relationships with her daughter's therapists from their first days in the neonatal intensive care unit.
Three years later, Moore views the therapeutic relationship as a team. "It's important to have a professional friendship with the therapist," she says. "We share, talk and work together. If Kenna senses that we have a healthy relationship, then she is motivated to have fun and progress to the next level."
Arriving on time at the clinic or being home for an appointment is courteous and crucial to the team. Calling to say you are late or cancelling ahead of time helps the therapist plan her workday. Sharing contact information and best ways to communicate is important to building the team.
---
Be Ready
Your child needs to be prepared for therapy. This may mean having a snack or drink ready, or visiting the bathroom beforehand. In-home therapy requires a room or area free from interruptions and distractions.
Parents need to be ready as well. "Parents need to be ready to accept therapy as a way to help their child achieve a better quality of life," says Philip Bissoondial, president of Milestone Therapy, who is also a licensed and registered occupational therapist. "Being open-minded to introducing their child to a different type of exercise is helpful to the therapist."
Moore admits as a parent it can be hard to let go, but the therapist has the child's best interests in mind. "There have been times when I was scared to try something new a therapist recommended for Kenna," Moore says. "One time, we took her advice, let her try a lollipop, and she succeeded in teaching Kenna to suck."
---
Open Dialogue
Many therapists start a session with, "How's it going today?" This is the time to share any information about your child's day. Perhaps your child did not sleep well, had behavior problems at school or refused to eat all day. With this critical information, a therapist can rethink the goals for that session, cutting down on frustration and wasted therapy sessions.
Share information about what motivates or upsets your child. "Being open and transparent with the therapist about your child's habits and needs," Moore says, "can have a positive impact on the therapy session."
---
Get Involved
Therapy sessions are not just between the therapist and child. Actively engaged parents and family members are vital to the success of a child's development, says Erin Harkins, a physical therapist with Child and Family Development. "From the beginning, the family must be a part of developing meaningful goals that take into account the therapy process and family expectations."
Providing therapists with appropriate information, such as IEP goals, doctors' evaluations and the child's history helps the therapist develop a plan that aligns with the family's goals.
Parents who ask questions about the session and find out how to get involved give their child the boost they may need to move to the next level. Family members who participate can help a child excel.
Therapists understand that families have other children and obligations. "By talking through the family schedule with the therapist, exercises may be incorporated into daily routines," Harkins says. "For one busy family, I recommended their child practice the bear walk every night from the bathroom to the bedroom. "
---
Regular Evaluations
Reviewing expectations and having an open discussion about how the sessions are proceeding is necessary.
"It helps to have a constant dialogue to make sure the long- and short-term goals of the therapist and the family are aligning. Eventually, if appropriate, involve the child in this process," Harkins says.
---
5 Questions to Ask a Therapist
Often the therapy relationship gets started with the therapist asking all the questions. Use this opportunity to ask these important questions:
How do you structure your sessions?
What type of reward system do you use with children?
How do you find balance between challenging and supporting a child during a session?
What are the best ways we can get involved in the therapy process?
What do you do when the session is not going according to plan?
---
5 Ways to Increase Communication with Therapists
Create a communication log for all therapists to complete each time they visit your home for therapy.
Share therapist contact information with all therapists working with your child.
Prepare a short document of pertinent information about your child to give out to therapists.
Send out a monthly email to your child's therapists to highlight upcoming events in your child's life or share information about your child's personal victories or areas that need work.
Share this article with your child's therapist to get a discussion started about how to build a team.
---
Vanessa Infanzon is a freelance writer in Charlotte. She is mom to three boys and has been building relationships with her oldest son's therapists for almost 12 years. She writes at especiallyben.com.