Building on Imagination
Given the chance, kids are natural builders and makers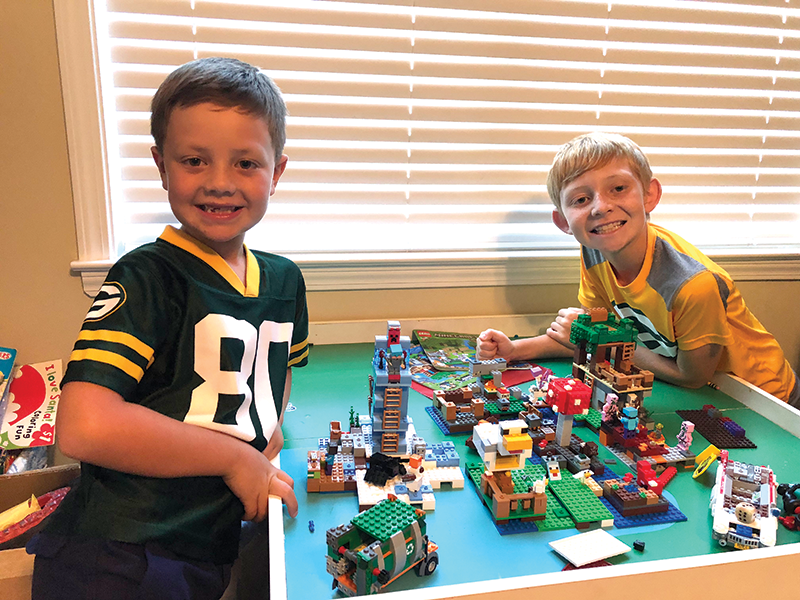 I'm thankful for builders. Although I have improved my fix-it abilities somewhat since becoming a homeowner 12 years ago, I am still terrible at making things. If there's a way to screw up putting together even the most basic piece of IKEA furniture, I will find it. In the build-it department, I'm awkward, clumsy and slow. While I realize that you have to be bad before becoming good, I'm not sure there will ever be enough time for me to make that jump. That's why I'm so impressed by builders — from people who construct homes to people who make furniture and crafts. For those reasons, I want my sons to be better builders than their dad.
Given the opportunity, kids are natural builders and makers. Be it those first wooden blocks that are soaked in drool before getting used, or those intricate 500-plus piece Lego sets, kids love to put things together, take them apart, and build them up again.
When the kids turned 5, my wife and I started taking them to the kids' building classes at Home Depot and Lowe's, where kids have a free opportunity to build bird houses, picture frames, race cars and planters. Similar kits that you can take home are also available for purchase. We keep a couple of those kits in the garage for rainy days. It's definitely a program that I wish had been around when I was a kid.
Now that my sons Chase and Tyler are age 7 and 10, there's plenty of Lego building at our house. Whenever they say, "we're bored," my wife Kristen challenges them to a Lego building challenge. She gives them a general theme or item she'd like them to construct, along with a certain amount of time they have to complete the build. They both have completely different visions and styles when it comes to tackling the challenge, whether it's a schoolhouse or a spaceship. In the end, Mom or I have to judge and critique their designs reality-show style, which means lots of interesting looks while judging and very long dramatic pauses before revealing the winner.
My boys also enjoy building forts in their playroom. They got into this at a young age when their favorite babysitter started building them indoor forts on rainy days so they had somewhere special to eat lunch and play games. The building happens outdoors too. In late summer, they built their own version of a Ninja Warrior course. Luckily, they haven't asked how to build a Warped Wall or the Cliffhanger yet.
Then there's the digital building that occurs with Minecraft and Roblox. While I prefer they develop real-world building skills, these two games help with math skills, thinking and reasoning, problem-solving and collaboration.
I'm as bad building digitally as I am in the real world. Somehow, I have no problem building a really nice looking weather map at WCCB or editing a complex video, but I can't make a house out of digital bricks. The blocks are all the exact same size and shape after all. How hard can it be? But I digress.
Jokes aside, I hope my kids continue to love building and making, and get better and better at these practical skills. And I kinda, sorta hope one day that they can design and build a mountain home for me in the High Country of North Carolina.
Derek James is host of WCCB News Rising. He and his wife live in Charlotte with their sons who are ages 7 and 10.