Building a Family Through Adoption
Three families travel different avenues of adoption, all leading to happy relationships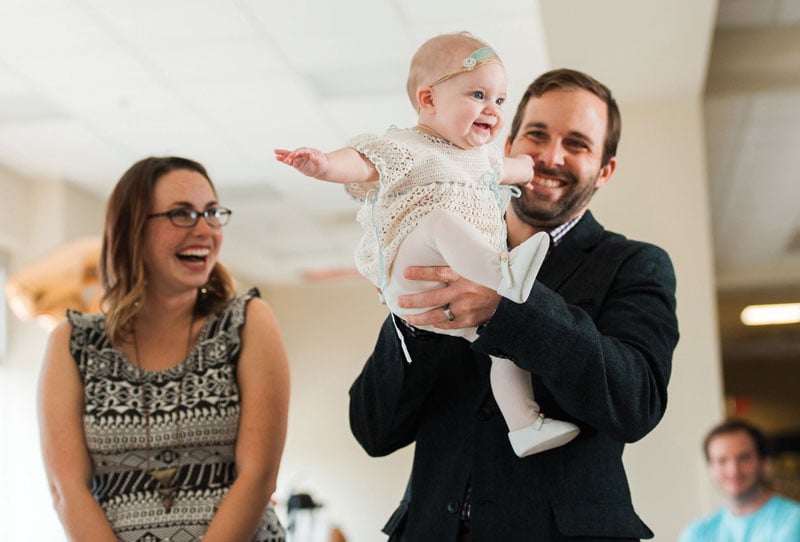 Sometimes, a family begins with a phone call. For Brian and Lauren Higdon, that call came from the birth mother who unexpectedly delivered their daughter in a car.
Jessica and Jay Masanotti received a call from their social worker at 10:30 p.m. on a Friday. Their baby had arrived two weeks early. Could they come to Asheville and pick up their baby?
Families who have adopted, whether domestically or internationally, say the process can be trying and unpredictable. It can be rife with paperwork and waiting as families work with birth parents, adoption agencies and government rules. But their advice if you're looking into adoption as a way to build a family: Do it.
"Don't be afraid," says Lauren Higdon. "Step toward it and see what happens." Following are the stories of three local families who chose to build their families through adoption.
An Open Adoption
After years of struggling with infertility, the Higdons were ready to start the adoption process even though the cost had been a hang up. Working with Bethany Christian Adoption services, they were matched with a birth mother and saw their daughter the day she was born.
The couple went to prenatal visits with the birth mother and spent time getting to know her. They roomed in the hospital with baby Savannah for three days after she was born, and took her to visit her birth mother for feedings. They consider their relationship with Savannah's birth mother an added bonus to the adoption.
"We wanted (the birth mother) to know she would always be part of Savannah's life," Brian Higdon says. He and his wife Lauren Higdon thought they might feel awkward around the new baby, but they quickly connected, he says.
"I don't really know how to describe it, but as soon as we saw her we knew she was our baby," he says.
Friends from their church, Elevation, have provided ongoing support and celebrated Savannah's arrival. Friends also helped the Higdons with fundraisers before Savannah's birth, and Lauren Higdon says that while they "are not rich by any means at all," they've had a debt-free adoption.
She cautions that adoptions can be romanticized. The Higdons' adoption process was about two years long, including two dissolved adoptions before they found Savannah. Now, they say they are thrilled with the life they are be able to give their daughter.
Giving up on Fertility Treatments
When Jay and Jessica Masanotti were dating, they talked about how they both wanted a big, blended family of biological and adopted children. After eight years of trying to conceive, doctors told the couple they had inexplicable infertility.
The Charlotte couple decided to funnel their resources toward adoption instead of infertility treatments, and within months of signing up with Catholic Charities they were matched with a birth mother whose due date was only weeks away. The three met for breakfast, and "everything went great," Jessica Masanotti says. A whirlwind of baby preparations began.
The baby boy was born in Charlotte, but the Masanottis were not allowed to visit him at the hospital because state law requires the birth father to be contacted first. When the father was finally located, he said no to the adoption.
"It failed," Jessica Masanotti says. "Our first go round was traumatic, but it helped my husband and I get a little clue about how hard this journey is and that adoption truly is not for the faint of heart."
After taking some time off and even entertaining thoughts of moving to New York, the couple was matched with another birth mother in early 2015. In April of that year, they brought home baby Amelia.
The process taught them a weighty lesson in faith, Jessica Masanotti says. "It's been one of the only things we've had to truly trust that God's in control and that we were meant (to be Amelia's parents)."
Amelia is now 18 months old. Jessica Masanotti says the toddler looks a lot like Jay Masanotti, and shares her spitfire personality. She loves to eat her mom's cooking, and the couple quickly integrated Amelia into their active lifestyle.
"We chose Amelia, and her birth mother chose us," she says. "One of the coolest things is the way she has complemented our life."
A Blended Family
Charlie Marquardt, cofounder of the Adoption Support Alliance in Charlotte, had a difficult pregnancy with her twins, including multiple sessions of bed rest, emergency surgery and hospitalization. Doctors told her ensuing pregnancies could be equally hard, so she and her husband Bill Marquardt quickly decided to adopt to expand their family.
They first adopted a son, Wesley, was born in Guatemala and arrived at the Marquardts' when he was 15 months old. They later added an infant daughter who was born in Kansas to a Mexican-American mother.
Charlie Marquardt says her children were so young when they were brought together that they had a hard time understanding why others didn't see how Latino and Caucasian children could be a family.
"It didn't cross their minds that they should have looked alike," Charlie Marquardt says. "It took a long time for them to recognize that."
Now that her children are older, she says she reminds them that in a culture that "is not always conducive or kind toward Latinos" they need to take care of each other. "We go together even if we don't look like we go together," she says. "And we stick up for each other, always."
Marty Minchin is a freelance writer who lives in Charlotte.
---
Considering Adoption?
Here's some helpful information.
Adoption 101. Adoption Support Alliance offers informational classes throughout the year in Charlotte that cover the basics of adoption for interested parents, as well as training classes for more specific issues related to adoption.
"I think adoption is a really foreign concept for a lot of people," says Erin Nasmyth, cofounder of Adoption Support Alliance. The nonprofit group encourages adoptive parents to educate themselves and build friendships with other adoptive parents for support.
"The blessings that come out of adoption are huge and very valuable, and the work that parents put in on the front end definitely pay off in the long term," Nasmyth says.
Adoptive parents generally have to be older than 23, have a steady income and live in a house that meets safety requirements. The process can take between nine months and three years, and sometimes longer.
Home studies. Before families can be matched with a birth mother or child, they must undergo a home study. The process typically requires two visits with a social worker or home study provider, including one in the home.
Many people are a little afraid of home studies, Charlie Marquardt says, but they do not require a white-glove inspection of your house and evidence of a perfect family. "You're really trying to show you are capable of caring for an adopted child," she says. "It's really a very easy process, and it can be very good."
Prospective adoptive parents are asked to respond to questions about their backgrounds, their parenting philosophies and their support system.
"Sometimes that can feel a little overwhelming, but I tell people it makes you a better parent because you've thought through those things ahead of time."
Cost: The cost of adoption, which can be as much as $40,000, can be off-putting to many parents. Financial assistance is available, however. Some parents have turned to crowd-funding sites such as GoFundMe, while others hold separate fundraisers.
The Gift of Adoption Fund offers grants to adoptive families. The national nonprofit celebrates its 20th anniversary this year. The organization opened a chapter four years ago that serves families in North and South Carolina. It has awarded $375,000 in grants to fund adoptions for 125 children in Charlotte and the Carolinas.
Bonding. One of adoptive parents' greatest concerns is how to bond with their child. It's often easier to bond with infants because parents are naturally spending time with them feeding them, changing diapers and holding them, but parents can successfully bond with older children, Nasmyth says.
She cautions that each adopted child comes with a unique history that could affect bonding, and she encourages new parents to be intentional about spending time with their adopted child, especially in the first few weeks.
Parents should get on the floor and play with children, make eye contact as much as possible, read them books and sit with their arms around them, she says.
"Create space to do that bonding with them and be consistent, even when it's inconvenient initially," she says.
---
For families considering adoption, the Charlotte area is home to many local offices of adoption agencies, as well as nonprofit organizations that offer everything from support groups to financial aid. Find local adoption resources in the baby and toddler directory at charlotteparent.com/directories.