Brain Training
Where once scientists thought the brain was stagnant, or incapable of change, we now know that's not true.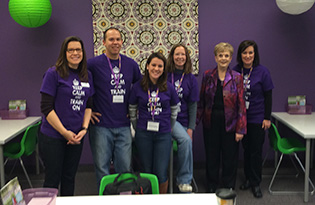 SPONSORED CONTENT
---
There's been a lot of talk about recent discoveries related to the brain's plasticity. Where once scientists thought the brain was stagnant, or incapable of change, we now know that's not true. It's especially good news for those struggling with ADHD, dyslexia, autism, brain damage or age-related cognitive decline, because it means that brain skills can be improved.
Although brain training is an emerging industry, not everyone is new to the field. LearningRx is the country's largest brain-training franchise and its founder, Dr. Ken Gibson, has been researching cognitive skills for more than 20 years. His new book, "Unlock the Einstein Inside; Applying New Brain Science to Wake up the Smart in your Child" is a reflection of that research, and the published results of his studies have been implemented into all LearningRx programs.
"We have several programs available through LearningRx to help children and teens strengthen their cognitive skills," says Dr. Gibson. "ReadingRx, ThinkRx and MathRx are also specific programs to help develop a child's weakest cognitive skills – not specific academic topics. Even the MathRx is geared to develop math-related cognitive skills, not math knowledge. That's the difference between brain training and tutoring."
As LearningRx Director of Training Tanya Mitchell explains, "Before kids can be tutored on a particular subject, they need to have strong cognitive skills – things like auditory and visual processing, memory, processing speed, comprehension, short- and long-term memory, logic and reasoning, and attention. Cognitive skills are the underlying tools that enable kids to successfully focus, think, prioritize, plan, understand, visualize, remember and create useful associations, and solve problems. That's where brain training comes in."
For example, if a problem reader first goes through specialized cognitive training for auditory processing, more specifically phonemic awareness, and then a good "sound-to-code" reading program, there can be dramatic success.
"Our reading program is based on the latest scientific research. With good cognitive skills training, a problem reader in our reading program can see a 3.5-year gain in word attack skills in about 72 hours of training over a 6-month period," says Mitchell.
"I strongly encourage parents to ask what type of results a reading program averages before spending their time and money."
Like tutoring, digital programs work narrow areas, not major learning skills. That may be why talk at the 2008 Learning and Brain Conference focused on the idea that brain training may someday replace special education programs.
"Changing a child's learning skills makes a huge impact on all aspects of their life – not just in the classroom," says Mitchell. "When children go through our programs they get their homework done faster, play sports better, make more friends, and just find many things easier that they used to struggle with."
To take a free online assessment or to find a LearningRx center near you, visit www.learningrx.com.
---
David Henderson, Executive Director, LearningRx, Charlotte is a local educator that opened LearningRx in northeast Charlotte. His years teaching in the classroom exposed him to the variety of learning struggles and available solutions. Nothing beats the results of LearningRx.