Boudreaux's Louisiana Kitchen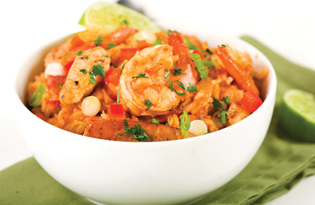 Any meal that starts with beignets is a good one in my book. At Boudreaux's Louisiana Kitchen, a plate of beignets is the beginning of a meal full of sweet and savory delights. This funky NoDa eatery is a close-to-home substitute for experiencing traditional New Orleans fare.
Boudreaux's sits in the heart of NoDa, and its atmosphere reflects the arts district's eclectic and edgy spirit. The colorful front room looks like a recycled garage, with a roll-up door acting as a wall of windows. The clean, but basic, bathrooms retain that garage feel with corrugated metal for the stalls. And there's a room with a large bar and piano that I imagine are the center of lively Mardi Gras evenings.
My family visited the restaurant for a quieter Saturday lunch, and because it was the weekend, brunch was served (instead of lunch). The kids menu – featuring non-spicy fare, like chicken tenders and mini corndogs – at Boudreaux's also is only available for dinner.
While our 4-year-old daughter enjoyed a side of home fries and a side of fresh fruit, my husband and I went for more traditional Cajun creations. He had the jambalaya, a nice mix of flavors that was not afraid to be spicy though it was not especially hot. It was a good size portion. I had the muffuletta sandwich, which was delicious. It had lots of meat with a tangy-salty olive spread on crisp focaccia bread. And my side of potato salad had a nice kick to it.
The service was friendly and attentive, and it was our server who suggested we start with beignets. They came out warm and chewy, hollow on the inside and crispy and sugary on the outside. All the powered sugar turned our daughter into a little snowman!
– Heather Bailey
The Chow Down
Boudreaux's Louisiana Kitchen, 501 E. 36th St., Charlotte
Dollar Deal: $5.95-$14.95
Décor/Atmosphere: Artsy, Bourbon Street, no-fuss
Kids Menu: $3.95-$6.95
Amenities: Boosters and high chairs available; no diaper changing stations
Got Milk/Juice: Yes
Phone: 704-331-9898
Website: www.boudreauxs.com