Books That Foster Healthy Eating Habits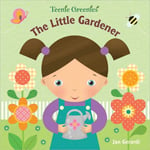 Bridge the gap between where healthy foods come from how they end up on our tables, and tips for how kids can make their own healthy meals, with these books.
"The Little Gardener" by Jan Gerardi (Random House, $6.99) delights toddlers and preschoolers, who can enjoy lifting the flaps in this brightly colored board book to learn about the tools and processes needed to make a garden grow. Ages 0-4 years. Hardcover.

"Packing Up a Picnic" by Rick Walton and Jennifer Adams (Gibbs Smith, $9.95) offers tips for kids on putting together their own picnic to enjoy with friends. Chapters focus on how to pack picnics featuring the following themes: breakfast, bicycle, haunted, surprise, beach and drive-in. Learn how to make spokes and wheels trail mix, ants on a log, "Under the Sea" finger Jell-O and more. Ages 6 and older. Paperback.

"Clueless in the Kitchen: A Cookbook for Teens" by Evelyn Raab (Firefly Books, $14.95) was written for teens and young adults who feed themselves either occasionally or all the time. More than 200 recipes cover categories such as meat, pasta, eggs, fish, vegetarian foods, snacks and desserts. A handy guide to the kitchen offers tips on food staples and equipment, and another chapter focuses on the basics of shopping with advice for choosing fruits, vegetables, cheeses and meats. Ages 12 and older. Paperback.