Books That Cook: Cooking for Basics for Dummies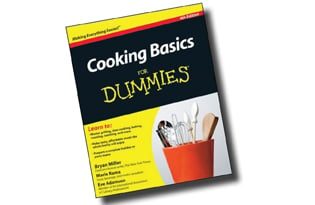 Conquer the basics of cooking with this step-by-step resource that will help any cook master those classic recipes everyone loves. The hands-on book shows you how to implement practical recipes into everyday cooking. Learn how to grill, slow cook, pressure cook, roast and sauté like a pro. "Cooking Basics For Dummies, 4th Edition" (Wiley Publishing, December 2010, $21.99) teaches ways to cut carbs, calories and fat out of meals for your family by using simple tips.
Eliminate time in the kitchen with tricks for chopping veggies, juicing fruits and easy clean up. The cookbook also recommends some staple ingredients to buy so your pantry is always prepared and you will never need to borrow that cup of sugar from your neighbor again.
— Lindsie Nash