Books that Celebrate Family Bonds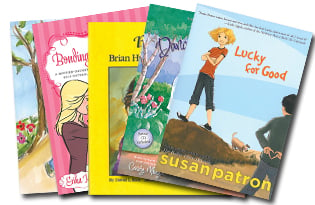 This month's issue of Charlotte Parent celebrates those precious moments we spend bonding with family and honors the importance of family togetherness. Following are some books that support those values.
         
"Dance Me, Daddy" by Cindy Morgan (Zonderkidz, $16.99) celebrates the love between a father and daughter – from her princess/dress-up/tea party days, to the moment she gets married. The book comes with an audio version on CD, which Morgan narrates, as well as the song "King of the World" by Point of Grace. Ages 4-7. Hardcover.?


"Because Brian Hugged His Mother" by David L. Rice (Dawn Publications, $16.95) reveals what happens when Brian hugs his mother one morning. His small act of kindness starts a chain reaction of good deeds all day long that bring joy to people he doesn't even know. Ages 4-12. Hardcover.?


"I Believe in You" by Marianne Richmond (Sourcebooks Jabberwocky, $15.99) explores the roller coaster of feelings parents experience as they watch their child grow, and encourages children to look within themselves to succeed. Reading this story to a child helps reassure them that a parent or loved one will be there to cheer them on as they grow up, every step of the way. Ages 4 and up. Hardcover.?


"I Promise I'll Find You" by Heather Patricia Ward (Firefly Books, $17.95) calms a child's fear of being separated from a loved one. It offers comforting, reassuring examples of how parents will go to the ends of the earth to find their child, no matter what. Ages 4-7. Hardcover.?


"Just Grandma and Me" (American Girl Publishing, $10.95) is described as a "fill-in, tear-out, fold-up book of fun for girls and their grandmas." They can take quizzes to learn more about each other, make crafts together, plan a tea party, share recipes, tell stories and more – even if they live far away from each other. Ages 8 and up. Hardcover.?


"Lucky for Good" by Susan Patron (Atheneum Books for Young Readers, $16.99) is the third book in the Newbery Medal-winning Hard Pan trilogy, which started with "The Higher Power of Lucky." The series focuses on Lucky, a young girl who lives with her adopted mother, Brigitte, and helps her run the Hard Pan Cafe. In "Lucky for Good," residents of Hard Pan, Calif., come together when the county health department threatens to close down the cafe, showing how much good a community can do when its members work together. Ages 8-12. Hardcover.?


"Bonding Over Beauty" by Erika Katz (Greenleaf Book Group Press, $14.95) is a mother/daughter beauty guide for moms and their tween daughters as they navigate the difficulties – and joys – of puberty. Katz offers advice on how to address makeup, skin care, shaving, hair color, periods and other tween "landmines" in a way that fosters self-esteem, confidence and trust. Ages 9 and up. Paperback.?

?