Books and Games that Foster Family Togetherness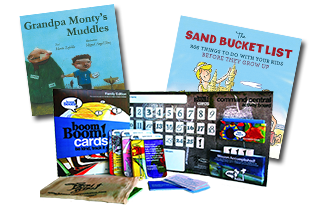 Celebrate family — in good times and bad
Grandpa Monty's Muddles by Marta Zafrilla tells the story of Oscar, a 7-year-old boy and only child, who suddenly finds himself taking care of his aging grandfather. Grandpa Monty has come to live with Oscar's family, and Oscar keeps him out of trouble since he sometimes forgets things and wonders off. This endearing story touches on the sort of family togetherness we may not always enjoy, but find necessary as family members age. Hardcover. Ages 7-9.
A Game of Kindness
The Boom Boom! Cards Family Deck ($14.99) features 26 acts of kindness that family members can perform together to make the world a better place. Examples include going on a "trasher hunt" instead of a "treasure hunt" to dispose of garbage around your neighborhood, leaving a note for your mail carrier, and leaving a surprise bouquet of flowers on your neighbor's porch. Once your family completes the deck, post stories about your experiences – along with photos and videos – at boomboomrevolution.com, and then pass the deck on to another family to use.
Parenting Resources
"The Sand Bucket List: 366 Things to Do With Your Kids Before They Grow Up" by David Hoffman (Running Press, $12) offers exactly what its title promises: hundreds of ideas for spending time with your children. Some border on wacky, but who wouldn't have fun dying her hair with Kool-Aid or dressing as a pirate and searching for buried treasure? Sampling every flavor at your favorite ice cream shop may annoy the shop owner, but your efforts will be rewarded with reminiscent stories and laughs around the dinner table for years to come. Hardcover.
"The Sibling Effect: What the Bonds Among Brothers and Sisters Reveal About Us" by Jeffrey Kluger (Riverhead Books, $16) transforms scientific, psychological and sociological perspectives on these important relationships into an insightful exploration of birth order, genetics, behavioral traits, emotional disorders and other factors that impact sibling bonds. A good resource for parents who want to understand their own sibling bonds as well as those of their children, this book addresses hot topics such as fighting, favoritism, blended families, siblings raising siblings and much more. Paperback.