Blue Ridge Parkway: Free Planning Guide
This free guide will save you hours of web surfing as you plan your Blue Ridge Parkway excursion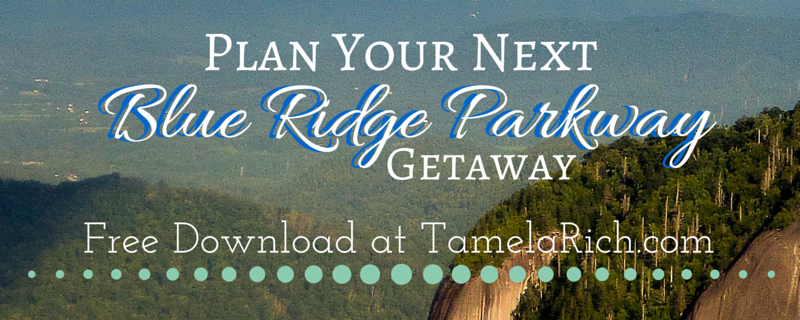 Headed to the mountains for a fall excursion? At some point you'll likely travel on the Blue Ridge Parkway, which connects North Carolina's side of the Great Smoky Mountains National Park to Virginia's Shenandoah National Park and skirts hundreds of towns and villages along the way.
The Parkway covers a region of 469 miles and 88,000 acres of protected land, not to mention the other acreage adjacent to the Parkway. A vast territory.
Of course there's a lot more to do than look at autumn leaves in Western North Carolina, which is why I developed a free guide to the Blue Ridge Parkway. Simply hit this link to download your copy. NO registration required.
Bite-sized

Parkway

The southern terminus of the Parkway is in Cherokee and it runs northeast, crossing the NC/VA border north of Boone.

The National Park Service, which administers the Parkway, makes it easier for us to plan our visits by dividing the Parkway into regions and by using a milepost system, from 0 in Virginia to 469 in North Carolina..

The regions and mileposts make it makes it easy to cluster your activities and lodging. I used both systems for my six-page guide.
Highland and Pisgah Regions
My guide is arranged by the four official regions of the Parkway from north to south: Ridge, Plateau, Highlands, and Pisgah.
Most Charlotteans will visit the Highlands and Pisgah regions from Milepost 217 near the Virginia Border to Milepost 469 near Cherokee.
Within each region, my guide uses the Parkway's milepost system to feature key properties and their websites. Start with a key property and build a tight itinerary around it.
How much to plan per day?
Try this: for each day you'll be on the Parkway, choose one or two things that are 50 miles apart. After all, you can only travel 45 m.p.h. on the Parkway, and besides that, don't you rush around enough in the rest of your life?
With a tight itinerary you'll have time to sunbathe after a picnic lunch or pull over to watch wild turkeys cross the road and explain to the kids why they look different from the birds that end up as a Thanksgiving centerpiece.
Travel slow. Don't put yourself in a position where you keep saying "Hurry up" to your family. The Parkway, with its limited cell coverage, will help you re-center and connect with your traveling companions.
I've traveled all 469 miles of the Parkway several times, so please get in touch if I can help you plan the perfect getaway for the things that your family enjoys.
Please share your photos from your Blue Ridge Parkway excursion on my Facebook Page. Have fun out there!