Blowing Rock in the Fall
Take a trip to the High Country for scenic overlooks, outdoor adventures and award-winning barbecue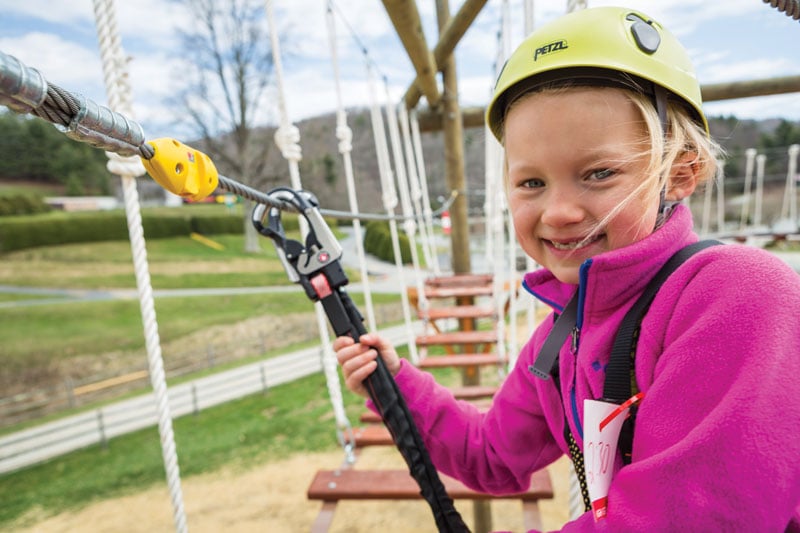 Growing up, one of my favorite things to do was to go on a road trip once the leaves started to change. My parents and I would load into my dad's Corvette, with me sitting between them (my, how child safety laws have changed), and I'd stare up at the changing colors through the open T-top, watching light filter through the orange, yellow and red leaves.
Now, as a new father, I get to share the magic of the season with my 9-month-old son, Deacon. His first drive, which he enjoyed safely from his car seat, was to Blowing Rock, where there are ample opportunities to enjoy fall colors.
Take In the Scenic Overlooks
Legends of Blowing Rock carry as much mystique as the hazy Blue Ridge Mountains surrounding it. Folklore tells us Blowing Rock formed out of a Shakespearean-esque love story between a Cherokee brave and Chickasaw maiden. Ripley's Believe It or Not tells us it's "the only place in the world where snow falls upside down." The truth is, Blowing Rock is what remains of a billion-year-old rock that Mother Nature buried beneath the Blue Ridge Mountains.
Blowing Rock is also a stroller-accessible tourist attraction offering birds-eye views of the Blue Ridge Mountains. While the website says you only need 20 minutes to tour the park, plan on staying longer to linger over the views and enjoy a picnic lunch at one of many tables available to visitors. Admission is $7 for adults up to age 59, $6 for ages 60 and older, $2 for ages 4-11, and free for ages 3 and younger.
Enjoy Outdoor Adventures
Families looking for adventure can find it at Julian Price Memorial Park, part of the Blue Ridge National Heritage Area located 15 minutes west of Blowing Rock. Canoe or fish at Price Lake and choose from three hiking trails, including the Tanawha Trail, which wraps around the ridge of Grandfather Mountain.
Thrill-seekers can enjoy autumn's colors while participating in one of three different family-friendly activities at High Gravity Adventures, an outdoor aerial adventure park. Children ages 4-6 can play on the Foothills course, where activities take place no higher than 4.5 feet off the ground. Children ages 7-10 must be accompanied by an adult to explore the Blue Ridge course, while ages 11 and older are encouraged to experience the course on their own. Ages 14 and older do not require a chaperone, and can participate in activities where heights can reach 50 feet.
High Gravity Adventures is open Fridays, Saturdays and Sundays only during fall and closes for the year Thanksgiving weekend. Hours vary leading up to and after Halloween. Admission is $49 for ages 11 and older, $39 for ages 7-10, and $19 for anyone participating on the Foothills course, which is the only course ages 4-6 are allowed to access. Children under the age of 4 are not permitted in the park.
Award-Winning Barbecue
All that activity is sure to work up a family-sized appetite. Woodlands Barbeque — voted 2015 Best BBQ in the High Country by Appalachian Voices, an environmental nonprofit committed to protecting the land, air and water of the central and southern Appalachian region — is the perfect place to feed those grumbling tummies. From the kids' menu to the North Carolina barbecue selections to the family-style Mexican entrees, Woodlands offers something for everyone at a reasonable price. And don't be surprised to find some local musicians strumming tunes on a weekend day.
Take the Parkway Home
To truly enjoy the fall leaves, try to spend as much time on the Blue Ridge Parkway as possible. Instead of doubling back to Charlotte on U.S. 321, continue following the parkway as far south as Asheville, even if it means going a little out of your way. If your little ones can't sit still for that long, take the exit to N.C. 181, which will lead you through Morganton and back to Interstate 40.
Bryan Richards is a craft beer, food and travel writer who recently added family travel writing to his credentials. He is also the author of The Wandering Gourmand, a culinary and craft beer travel blog.