Blended Family Vacation Planning Made Easy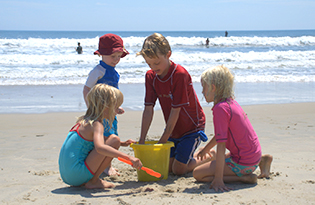 Summer vacation is almost here! For many people that phrase conjures images of flip-flops, sandy beaches and long afternoons at the pool. But for single parents and people in blended families, the two words can create instant tension. While many things about custody issues are set out in specific terms by the courts, often the summer is when schedules have a little built-in flexibility. That's all to benefit the children, to enable them to take vacations with both parents and maybe spend more time with the non-custodial parent. Unfortunately, the planning and the need for communication and ultimate compromise can lead to many headaches and sometimes heartaches. Here are some tips to help this year's summer planning work out as smoothly as possible.
When planning a vacation, whether you want to visit Disneyworld or take the kids to see the grandparents, remember it's important to include all the children in the trips. Especially if you have biological children who live with you and stepchildren who are not with you full-time, it is important that no member of the family is left out of the fun.
Once you have an idea of where and when you want to go, communicate with the other parents involved. The earlier schedules are planned the better. When talking with the other parents, try to remain flexible. Begin the conversation with a few options about when you would like to schedule your trips. And if there is something you can't budge on, for instance, you absolutely have to be at a family reunion over the Fourth of July, be prepared to compromise on other trips you might have planned.
Camp brings into play an issue that is not relevant with vacations. When a child is at overnight camp, whichever parent happens to have custody during that time will be giving up some of his allotted time. The important thing to remember is that in all things, the priority should be the child. The chance to attend an overnight camp is a wonderful experience that can give children educational opportunities, an opportunity to meet new and possibly lifelong friends and a time of independence from an ever-present family. If possible, try to share the costs of camp between parents, both financial and custodial. If one parent typically only sees her biological child only during the summer months, it might be an option to replace the lost time during a break in the school year.
Working on a summer schedule involves a lot of communication on the part of both biological parents and often stepparents as well. For some parents this is easy, for others it can be very difficult. Remember, seeking professional help is always an option, whether from a family counselor or a professional mediator, to help everyone do what's best for the children.
Karen Alley lives in the Triad and is proud to be part of a blended family.