Blended Families: Starting School Right as a Stepparent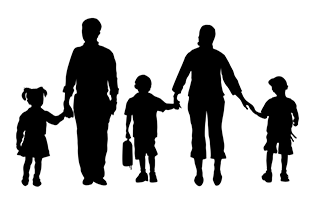 The beginning of the school year is an important time in the life of every parent with school-aged children, and that includes stepparents. It's the time when you're establishing routines that will set the standard for the rest of the school year, whether it's bedtime rituals or homework schedules, and as with all things in a child's development, all the parents in a child's life have an important role to play.
The first order of business is to introduce yourself to all of your child's teachers and explain your family's particular situation. A good way to do this is to attend the open house, whether you can make it there with your child or not. Some families might be able to all go together, but if it is better to not have the biological parents there at the same time it's OK to go at different times. If it's not possible for all parents to attend the open house, set up a conference with the teacher as soon as possible to introduce yourself.
Whether it's at the open house or a conference, the important thing is to let the teacher know that as a stepparent you are also involved in your child's life and care about his or her success. It also helps the teacher be better equipped to work with your child once he or she knows the custody arrangement and any other pertinent information that might affect a child's attitude at school.
Having a clear line of communication from the school to you is also important. Now's the time to make sure all parents are listed on the child's information forms, biological or not, so that both households receive all calls and communications. With the new PowerSchool program that is being implemented this year, parents have an easy way to track attendance, grades and schedules online. Depending on how the security system is set up, it's likely that only the custodial parent will be able to receive the initial user ID and password. It will be important for all parents, including stepparents, to have access to this information, so sharing the login information will be one more task on the list of things to do at the start of the school year.
Though getting communication from the school straightened out is important in blended families, even more important is letting the kids know that you're concerned about their success in school. As a stepparent, it's just as important for you to help with homework and attend school functions and athletic events as the biological parents. After all, you're all parenting, and the more love a child receives, the better off he or she is.
Karen Alley lives in the Triad and is proud to be part of a blended family.