Blended Families: Fitting in New Holiday Traditions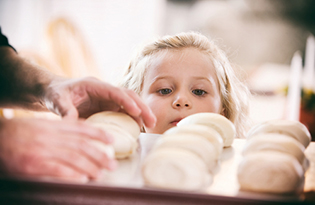 "But that's how we've always done it." If you're a single parent or a parent in a blended family, be prepared to hear your kids make that statement more than once in the coming weeks, most likely in a whiny tone. Holidays are a time filled with traditions, from mashed potatoes and turkey at Thanksgiving to ceremonies of unwrapping gifts at Christmas. But for parents who are recently divorced or who are part of blended families, old traditions might be the last thing you want to worry about. Keep in mind that while you might be ready for a change, your children might not be.
"The repetition of traditions provides security and identity for children," said Anne Dickerson, a family counselor in Charlotte. "If traditions can be continued, that can ease children's stress during the holidays."
Of course, not everything can be the same as it always was. Here are a few tips for managing the minefield of holiday traditions in blended families.
Listen to your kids.
Good listening skills are crucial when talking with children about holiday traditions and potential changes, but it's also important to observe your child's behavior for signs of stress.
"Parents often assume their child will react in a predictable way, and then forget to pay attention to what the child may actually be feeling," says Dickerson. "Listen carefully to what your children are expressing through words, body language and unusual behaviors in order to validate what the child is feeling, and then convey empathy to them."
SEE ALSO: Holiday Shopping Tips for Blended Families
Weed it out.
While everyone complains there is not enough time to truly enjoy the holiday season, this is especially true for families living with the "every-other-weekend" schedule. Talk with your kids to see what they really want to do, and then set priorities. Keep in mind it's easier to keep traditions that are kid focused and not the ones that depended on both parents being present.
Start new traditions.
Whether you are starting life as a single parent or have remarried and now have a blended family, the holidays are a good time to create some new traditions that have meaning for your family as it is now. Take the kids to an event you've always wanted to check out, or do something as simple as having ham instead of turkey for your holiday dinner.
Whatever you choose for your new traditions, make it fun and relaxing. It will surprise you how fast a new activity becomes "something we've always done."
Karen Alley lives in the Triad and is proud to be part of a blended family.