Blended Families: Communicating for a Better School Year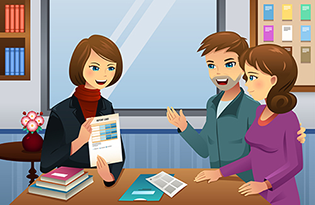 Communication is the key to a successful relationship. That bit of wisdom is something every parent and stepparent knows well, and it holds true for school relationships, as well as interfamilial ones. Take a minute to reach out to your child's teachers and guidance counselors as school gets going full swing. It will make things go more smoothly for everyone involved.
Elizabeth Coleman, school counselor at Wilkes County Schools, offers these ideas on how to communicate with your child's school.
• Be sure to share your custody agreement with the school. The staff is bound by law to do exactly what the agreement says, and it helps if everyone is on the same page from the beginning.
• Be proactive in communicating with your child's teacher. Make sure they have been introduced to or are aware of everyone involved in your child's life, including both parents, stepparents and boyfriends or girlfriends. The more a teacher understands a child's situation, the easier it will be for them to get to know the child and their needs. It also leaves little room for hurt feelings later if the teacher is communicating with everyone equally, so no one feels left out.
• Be aware of your rights as a parent or stepparent. Schools are legally obligated to follow the Family Educational Rights and Privacy Act, which limits who has access to the child's records.
• Don't be afraid to ask for small favors. We all know that most communication goes home in the backpack, so it just happens that whichever parent has the child that day gets to see it first, and sometimes only. Feel free to ask that communication from the school, including things like progress reports, report cards and classroom news, be sent to both parents. You can also ask to schedule two different parent/teacher conferences. After all, the school should be a safe zone for students, not another combat zone between parents who can't agree. Teachers will gladly accommodate these requests, as they know students do best when all of the adults in a child's life are involved and informed about behavior and academic progress.
• Utilize your resources. Your school's guidance counselor can be a great help for kids who might be dealing with stress or anxiety, or just need someone to talk with.
Remember, communication is a two-way street. Be proactive in your child's educational relationships, but also be receptive to feedback from teachers and counselors. Working together will only benefit your child.
Karen Alley is a freelance writer who lives in the Triad area and is happy to be part of a blended family.
SEE ALSO: Charlotte Parent publisher Eve White talks readjusting to a blended family after divorce on WCCB News Rising: