Blast Off to the Space Coast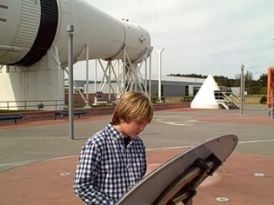 Families and Florida often lead to Orlando, but consider a new family destination: The Space Coast in Melbourne. With the new daily, nonstop flight out of Charlotte, families have another choice for a fun-filled weekend getaway and a nice change from the hectic pace of the amusement park circuit.
Parents will appreciate flying into the clean, easy-to-navigate Melbourne airport, a welcome departure from the hustle and bustle of Orlando International. No long lines or crowds make it easy for stroller-packing moms and dads to breeze through baggage claim and start having fun. Small airports mean smaller planes and less amenities, so don't expect a Boeing 747 and a full-service food court. You can expect friendly service, a snack bar, a children's play area and a small-town feel.
I Need My Space
The big attraction is the KennedySpaceCenter, about a 40-minute drive from the airport. If you're a mom like me, you love a learning vacation and space travel is a fascinating topic.
Upon arrival, my son and I headed straight for the Shuttle Launch Experience, a virtual thrill ride. While waiting in the queue, a video of veteran astronauts detailing a true shuttle launch experience keeps you entertained before the ride. (Note: Children must be 48 inches tall to ride.)
The next stop was lunch with an astronaut — a highly recommended add-on ($22.95 per adult; $15.99 per child). My son was thrilled to meet retired NASA astronaut John Blaha up close and personal, and the hot buffet lunch was surprisingly good. While we ate, we listened as Blaha responded to kids' questions about everything from space food to anti-gravity. Afterward he posed for pictures with the kids.
We then explored the rocket garden, where heard the story of space exploration, while astronaut conversations from Space Shuttle Endeavor's current mission played throughout the complex on loudspeakers. Next, we boarded a tour bus to Launch Complex 39, a-360 degree view of all the shuttle launch pads; the Apollo/Saturn V Center, where we touched real moon rocks; and finally, the International Space Station Center.
KennedySpaceCenter was the highlight of our trip, but my son and I agree it may not keep the interest of little children, and is more suited to those ages 8 and older.
Get Wild at the Zoo
The charming Brevard Zoo is another nearby family spot. Sign up for the kayak trip around the Africa exhibit, and see animals from the water's edge or let the kids climb down rope ladders to view the lounging cheetahs at eye level.
This small zoo offers many interactive animal experiences. We joyfully fed giraffes from a platform — their long tongues lapping treats right out of our hands. We also served nectar to lorikeets as they hopped on our shoulders and heads, to the amusement of giggling children all around. My son voted the rhino encounter, however, as the best activity of the day. Spend 20 minutes safely behind a metal guardrail but close enough to pet and brush the massive animal while learning rhino facts.
Fun for Beach-goers and Surfers
There's so much to see at the SpaceCoast, including the world famous Ron Jon Surf Shop, a 52,000-square-foot, 24/7 surfing mecca and one of the most visited attractions in Florida. Watch surfers, swim or go shelling on any of the 72- miles of pristine, uncrowded beaches from Cocoa Beach Pier to Sebastian's Inlet.
If you need a theme-park fix, Orlando is an easy one-hour drive, but your family may be so enchanted with the SpaceCoast, you might decide to skip the mouse, relax and stay awhile. CP
If You Go You Need to Know
KennedySpaceCenter
866-737-5235
www.kennedyspacecenter.com
$28-$38; children under 2 are free.
Admission valid for two days and includes tours, IMAX and all exhibits. Allow 6-8 hours to explore the park. Closed on space shuttle launch days.
Brevard Zoo
8225 N. Wickham Road, Melbourne
321-254-9453
www.brevardzoo.com
Adults $10-$13.50; children under 2 are free.
Additional fees for rhino encounter and kayak tour.