Birthdays that Benefit: Sharing Cake, Candles and Care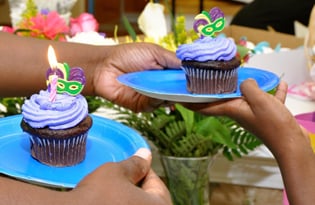 Picture this: You're homeless, and today is your child's birthday. You have no money for a celebration, no gifts to give, no cake for lighting candles. Or, imagine this: You and your newborn child arrive "home" to an emergency shelter. No closet full of fresh baby clothes and blankets, no quiet place to rock her to sleep. There are currently more than 3,000 identified homeless children enrolled in Charlotte Mecklenburg Schools, and more than 5,000 homeless Charlotte citizens, making these heartbreaking scenarios a constant reality.
For the thousands touched by Birthday Blessings each year, homeless children and families get a much-needed reprieve from their daily life struggles through programs that bring joy and support, and create lasting impact.
Birthday Blessings is a local nonprofit organization that celebrates the lives of homeless children, bringing positive emotional experiences that lift spirits, boost confidence, broaden horizons and support basic needs. Local parents Amy and John Cervantes started Birthday Blessings as a way to teach their children about helping others. What began as a monthly birthday party at a homeless shelter has grown into a thriving nonprofit that operates three programs serving homeless children and families across multiple counties in the greater Charlotte region.
The all-volunteer staff serves residents at 14 transitional housing programs and homeless shelters across a four-county region every month, in addition to serving CMS students living in transient homeless situations such as cars, campgrounds and motels. For many of these children, birthday celebrations offer an escape from the shadows and a chance to shine in the spotlight. For homeless babies, Blessing Baskets welcome and celebrate their arrival, offering each child a healthy and positive start to life.
Birthday Storybook
The pages of Birthday Blessings birthday storybook are filled with tributes to its mission, confirmation that seemingly small acts of kindness can have an enormous impact for someone in need.
At a recent Birthday Blessings party, 10-year-old volunteer Logan Springer witnessed a moment at a party he will never forget. "After we sang 'Happy Birthday,' (the 7-year-old boy) didn't know he was supposed to blow out his candles; we had to tell him to blow them out. Once he blew them out, he wanted them relit so he could blow them out all over again," Springer says, smiling.
"But I was kind of shocked, and it made me kind of sad because I could tell that he hadn't had a birthday before," says Springer. "But he was so happy and proud the whole time, and that made us all happy."
At another homeless shelter, a 16-year-old birthday boy was excited and thankful for his gifts, but it was his unexpected comment of gratitude that left a lasting impact on one of the volunteers: "I have never had a roomful of voices sing 'Happy Birthday' to me before," he told her quietly. "Thank you." The boy's real present wasn't wrapped in a bag at all. Instead, it was the gift of love and attention that filled the room. Talk about the power of a party.
Long-time Birthday Blessings volunteer Sheila Adams often recounts the time she delivered a Blessing Basket filled with care essentials, new clothing and gifts to a homeless mother and her 5-day-old baby whose first "home" was an emergency shelter. When she arrived, the woman appeared detached. The baby, wrapped only in a towel, lay next to her on a couch.
When Adams explained that the Blessing Basket was a gift for her and her baby, everything changed. Her tired and weary face began to transform into joy, as together they explored everything in the basket, dressed the little boy in a tiny layette, and then swaddled him with a blanket. When Adams left, the mother was cradling her newborn with tenderness and a restored sense of hope. "I was so blessed to share that experience with her," says Adams.
Plan to attend one of the many family-friendly events throughout the year, and strike up a conversation about homelessness with your child along the way. It's never too early to teach valuable lessons about giving back to those in need.
Want to help?
Parents and children can help celebrate and support the lives of homeless children in Charlotte by adopting a shelter party, participating in a service project at the Birthday Blessings facility or organizing a donation drive. Go to BirthdayBlessings.org to read more about its programs and to check out the volunteer calendar. Sign up for the monthly newsletter to stay in the know about upcoming Birthday Blessings events, and to read more stories about the impact its programs are making in the lives of homeless families each year.
Janet Cooper Haas is a freelance writer and mother of two busy boys. She also serves as the communications and community affairs representative for Birthday Blessings.