Birthday Party Advantage: Home or Away?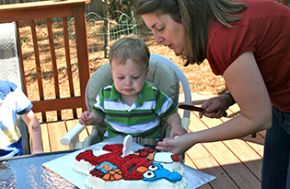 My wife and I are busy trying to plan a birthday party for our youngest son Chase who turns 3 in April. When I was a kid, I had most of my birthday parties at home prior to turning 9 or 10. I do remember one party at McDonald's in kindergarten where Grimace made my friend Craig cry. He was known as "Cryin' Craig" for quite a while after that. I probably cried too at some point but my name was much tougher to rhyme.
There are advantages to home birthday parties. Chase's first two birthday parties have been at home with family and friends. Our backyard is pretty good sized and fenced in so we had the party outside. Weather cooperated so we set up our Little Tykes Bounce House, Power Wheels and other toys for the little ones to play. I played the disc jockey, creating a mix of songs that would make Radio Disney jealous. Chase was comfortable being at home and it was easy to go from party to naptime.
Home parties can also be a pain. We spent hours cleaning our house to look more presentable than it normally does. We had to prep everyone on Dawson, our crazy chocolate lab who loves to bark and jump on new visitors. At home parties also mean you have to take care of all the food, drinks and worst of all, hours of clean up. In the case of rain, we're in trouble. We are still in our starter home and don't have enough room to throw a party inside.
Our kids can also be a little too comfortable at home. Chase's big brother Tyler got in the moment at one of our parties when he was 3 and dropped trou in our backyard and peed on the back of my leg. A friend alerted me and I turned around to see him hiking his underwear and pants up. When my son does something that funny it's really hard for me not to laugh.
The obvious advantage to outsourcing your kid's birthday party is you simply have to show up. With a party outside the home there's no set up or clean up. You'll have time to talk to your adult guests. It also means a time limit so the party is over at the scheduled time and you don't have to deal with a guest who doesn't get the hint that it's time to go.
The biggest problem with away parties is cost. This may mean a smaller party with fewer guests to keep from going over budget. Then you and your child spend time figuring out who makes the cut and who doesn't. I know it's wrong but you hope some people won't be able to make it due to other commitments to save a few bucks. It also means a shorter party, which can be a bummer if everyone's having a great time. The lack of flexibility means you may have to rush through one activity because another went long.
We're still going back and forth on whether to have a home or away party for Chase. I asked him where he wanted his birthday and he said "Elmo!" In the end as long as we don't need to take out a second mortgage, everyone has a good time, and I don't get peed on, I'm good.
Derek James is host on WCCB News Rising and live with his wife and two sons, ages 3 and 5.