Bird Watching: Books About Birds
Books that show us how to appreciate our feathered friends.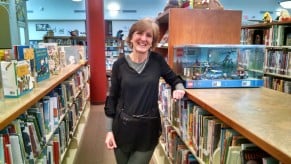 "Spring is sprung.
The grass is riz.
I wonder where the birdie is?
The bird is on the wing.
Now isn't that absurd?
I always thought the wing was on the bird!"
There is nothing more fun than watching the birds hang out in the backyard. They are at their busiest in spring, building nests, laying eggs and giving us humans plenty of activities to observe. This week's books show us ways to appreciate these feathered friends, learning how to identify them, how to create a bird friendly environment and even letting us imagine what life is like as a bird.
So how do you attract birds into your yard? Look up! Bird Watching in Your Own Backyard by Annette LeBlanc Cate, a fun and informative non-fiction book, shows how to recognize birds and gives tips on ways to encourage them to build their nests in your neck of the woods (or hanging basket). The birds themselves have plenty to say as the book is filled with funny cartoons and quirky comments that are both educational and entertaining. Readers are encouraged to head outside and sketch what they see, learning to identify different birds through sounds, colors, habitats and other characteristics. This book inspires the budding artist in all of us and is an excellent choice for those future ornithologists in grades 3 to 5.
Did you know that not all nests are created equally? In Mama Built a Little Nest by Jennifer Ward younger readers aged 4-8 will discover that nests come in many shapes and sizes. Some are made from moss, others from twigs, spider webs, or even spit, and some birds use nests that other birds have made. With beautifully detailed illustrations by Steve Jenkins, each page depicts a different bird with its nest and is accompanied by a poem and a brief description.
A fun picture book for the 4-8 year old set is Telephone by Mac Barnett. It is the old game of Telephone played with a new cast of characters: birds sitting on a telephone wire interpreting a message from Peter the pigeon's mom. Each bird has a peculiar personality and subtle clues hint towards what it likes to do in its spare time: the aviator goose wears goggles, while the photographer love bird peers through his camera lens. Each bird interprets the very important message "Tell Peter: Fly home for dinner" in its own way, but let's just say that it is the wise old Owl who has the final word. The simple text and bright illustrations make this story great for a read aloud.

If you would like more reading, try Pardon Me by Daniel Miyares a humorous story about (bird) manners: Superstar Birds by Louise Spilsbury which showcases some of the more amazing winged wonders: or For the Birds The Life of Roger Tory Peterson a biography about the famous environmentalist. All these titles are available at your local library.