Bike, Swim and Run in Lake Norman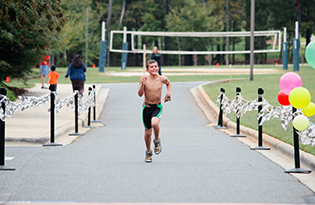 Kids love to ride a bike, swim and run as fast as they can. So, why not give a triathlon a try? The challenge of trying a new activity can be scary and exciting for your child, but with your help it will be a fun and rewarding experience. You could even make it a family affai. Register, gear up and train together with several kid-friendly triathlons in Lake Norman this spring and summer. These tips below will help you encourage your child to dive into this amazing sport.
Go the Distance
Children won't be going great distances in a typical triathlon, but they will hit the water, ride the bike, and run to the finish line. At the Birkdale Animal Hospital Kids Triathlon, located at Huntersville Family Fitness & Aquatics, the 4-6 year olds swim 25 yards and they can use a kick board. The bike course is .3 miles and the run is 100 yards. Older kids, swim 50-200 yards, ride 1-2 miles and run up to 1 mile, based on their age. Parents and volunteers are there to help them transition and cheer them along the way.
Team Up
Use training exercises and games as bonding time with your little athlete. If your child sees you getting excited about training, they will share in that excitement. Kathy Goody, triathlon trainer at Huntersville Family Fitness & Aquatics, stresses the importance of training with friends. "Swim teams, bike rides with friends, and running through games with friends are great." She adds, "The sport is exciting, and just when you get tired of swimming, it is time to bike, then run. If you keep it fun, the kids love it."
Go Shopping
Picking out equipment adds another element of fun to the sport. Parents know their kids love to get new toys, so let your child be involved in the process of buying new gear for their first triathlon. Take them to a store like TrySports and stock up on all the essentials. Many items like goggles, shoelaces, and running shorts come in a variety of colors so your child can be decked out with great, personalized gear.
Jennifer Riordan, the health and wellness director at Lake Norman YMCA says, "The health benefits of swimming, cycling and running are obvious, but the central focus of a kid's triathlon is to be fun. Being active should be fun so it encourages a lifetime of physical activity."
Katy LeGrand is the editorial assistant at Chalrotte Parent and a triathlete.
Read More:


View all Family Wellness articles