Big View Diner Offers Special Night for Kids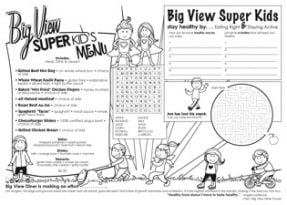 Every Wednesday, Big View Diner now offers a school-style cafeteria for children 4-12. While filling their plates from a buffet, kids are entertained by musical guests and a clown, and movies are shown on a big screen.
The chef/owner of the diner at Ardrey Kell and Johnston roads, Angelo Kaltsounis, was inspired by First Lady Michelle Obama.
The father of two girls, 7 and 3, was struck by her initiative to combat childhood obesity and set nutritional guidelines for school lunches, as well as the Dec. 2, 2010 House vote to pass the "Healthy, Hunger Free Kids Act."
Kaltsounis, an Olympic High School and Culinary Institute of America graduate also is co-owner of Ilios Noche on Providence Road and Nolen on Selwyn Road. "We don't want to freak kids out and become known as 'that place with the weird food,'" he says. "Kids love fries, you'll never get around that, so we serve them." But the diner's kids menu also features chicken fingers (baked, not fried), an all-beef hot dog on a whole wheat bun and Angus beef cheeseburger sliders. There's also spaghetti tacos, and side dishes include whole wheat fusilli with bits of ham and edamame beans. The menu has choices for those who have food allergies, too.