Best Rest Bedlam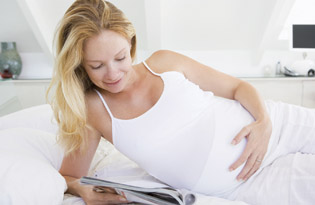 The term "bed rest" may conjure up images of relaxation, but ask a mom who's been on bed rest and she'll tell you it's no vacation.
"Bed rest is extremely difficult and exhausting," says Meredith Luber, a Huntersville mom who spent the majority of her pregnancy with her second child on bed rest. "Ironically enough, I never felt fully 'rested' on bed rest, because I didn't sleep through the night."
About 20 percent of pregnancies require some best rest. High blood pressure, cervical changes, fetal growth restrictions, preterm labor and multiple birth pregnancies are the most commons reasons for bed rest.
An expectant mom needs to have a clear understanding of what her particular activity restrictions entail and establish an open dialog with her doctor about her lifestyle. Varying levels of bed rest can range from limiting strenuous physical activity to being in bed all day with exception to showering and bathroom breaks. In extreme circumstances, bed rest requires hospitalization.
Dr. Robert Wicker, an obstetrician and gynecologist with Charlotte OB & GYN Associates, says bed rest patients are on an honor system when it comes to following doctors' orders. "I usually don't have to worry about compliance, because people are into doing everything possible for a healthy baby," he says. "But, do people probably do a little more than they should? Yes."
Unexpected Turns
"I felt like I was in a good mental, emotional and physical state when I got pregnant, so bed rest was a big surprise," explains Luber. She'd carried her first child three days past her due date and had worked full time until a few days before her delivery.
Suddenly, Luber was confined to a semi-reclined position in bed and had to enroll her then 2-year-old daughter in preschool and hire a sitter in the afternoons while her husband was at work. "Instead of looking at the sum total of time— for me, 23 weeks of bed rest, 12 of which were hospitalized — I broke it down into workable units. I would praise myself (and Anthony via a belly pat) at the beginning and end of each day. I would write our success in my gratitude journal," says Luber. "I had just saved my child a day of discomfort and possible complications of a longer NICU stay."
Bed Rest — Take Two
Sara Joyner, who gave birth to her second child in May, just experienced bed rest for the second time. Diagnosed with an incompetent cervix, Joyner knew what was in store. She made meals to store in her freezer and bought daily use items in bulk to help ease demands on her husband. Joyner also bought arts and crafts to do with her daughter from her bed.
"For me, routine is important and allowed my days to go by faster," she says. Her mornings included getting dressed in her bed and one-on-one time with her 2-year-old daughter before her husband left for work and took their daughter to day care. While her family was gone, she kept busy with crossword puzzles, making jewelry (a bed rest induced hobby), and  she chatted daily with 12 women she met in a bed rest chat room during her first pregnancy. The friends now have a private FaceBook page. "They're truly the only ones who know what it's like to be on bed rest," she says.
Multiple Challenges
North Charlotte mom Kristie Swartz knew carrying multiples put her at a great risk for bed rest, but she expected it to come in her third trimester. At 25-½ weeks, she was placed on modified bed rest. Being immobile was challenging, especially since she had been so active until that point.
"I felt so helpless," says Swartz, adding her husband had to take on all housecleaning duties. Her mother stayed a few weeks to help out, and church friends brought meals.
A CPA, Swartz was able to work from home for 10 of the 12 weeks she was on bed rest. "I had co-workers acting as a courier service for paperwork that had to go back and forth to the office," she says.
Despite the frustrations of bed rest, Swartz says it was worth it to make it further into her pregnancy and pass critical milestones for the survival of her twins and decrease health complications. "We were able to take our babies home from the hospital with no NICU time. It was such a blessing to carry them home together."
Holly Becker, mom to twins Mila and Elijah, 5, and Siler, 3, is a freelance writer in Davidson.

Making the Most of It
• Get organized and have useful items (books, magazines, pen and paper, etc.) within reach.
• Establish a daily routine, so you can maintain a sense of control.
• Allow friends and family to help with meals, chores, errands, etc.
• Connect with friends by phone or online.
• Read up on the first-year of Baby's life by searching online sites, and reading books and parenting magazines.
• Write letters to Baby, introducing Mommy, Daddy, any siblings and, of course, the family pet.
• Make preparations: research baby names, purchase nursery items online, make a baby registry, talk with a lawyer about a new will and guardianship, get insurance and other financial business in order, select baby announcements and get thank-you notes pre-addressed and stamped.
• Work on personal projects, such as updating the family address book, organizing recipes, making photo albums, etc.
— Courtesy of the American Pregnancy Association, www.americanpregnancy.org.