Best Old-School Burger Places You've Got to Try in Charlotte
When nothing but a burger will do, visit these Charlotte spots to fill up.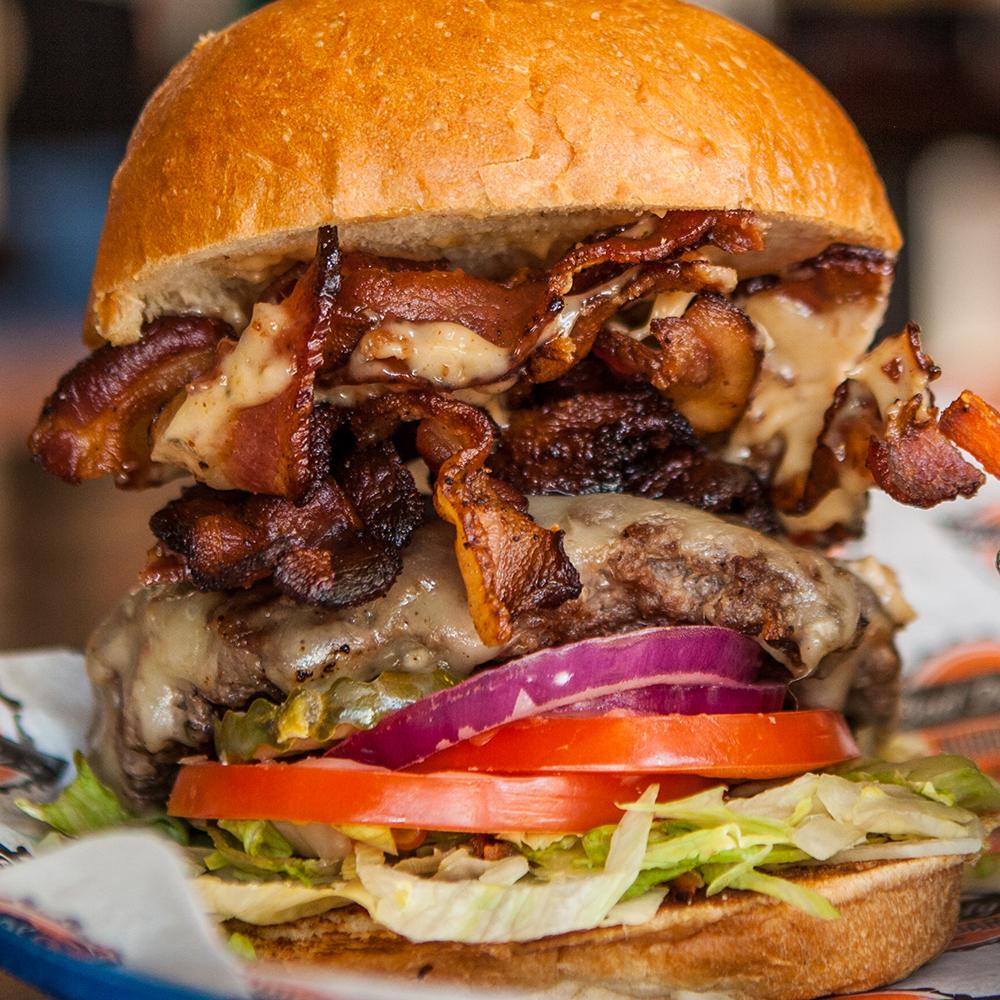 Leave some elbow room and pass the napkins, Charlotte offers an array of delicious ways to satisfy your meat between the bun cravings! Whether you like your patty plain, served up Southern style with onions, slaw and mustard, or want everything but the kitchen sink piled high with a side of fries, these fun locales are budget and family friendly. With so many amazing options from drive-ins to Queen City icons, work your way down the list until everyone is full!
Zack's Hamburgers, located on the corner of South Blvd and Scaleybark, is one of those places you drive past a dozen times before you finally go in to see what all the fuss is about. Low on pretentiousness and high on the old-school vibe, follow the crowd up to the counter, place your order and wait for your number to be called over the loudspeaker. Choose from a single or double hamburger or cheeseburger, or go for the gold with the Zack's special made with two 100% ground beef patties with double American cheese, lettuce, tomato, pickles, onions, mayonnaise and special sauce on a toasted bun. You get a lot of food for little dough but plan your trip Monday through Friday as Zack's is closed Saturdays and Sundays. 4009 South Blvd, Charlotte, NC 28209. 704-525-1720.
Feeling burger-ambitious? If so a trip to The Diamond in Plaza Midwood is in order. Opened in 1945 by Flonnie and W.A. James, the restaurant has gone through ownership changes and interior and menu updates but cointuues to convert newcomers to regulars. "Every burger is portioned and pattied in house and cooked to order on a well-seasoned flat top grill," says owner Andy Kastanas. "Multiple awards and appearances on Food Network and the Travel Channel have made our burgers popular with folks and sought out throughout the southeast." When you are ready for an epic burger experience order the Full Blown Hemi piled high with three beef patties, totaling a full pound of meat! Go Southern style with chili, mustard, onions and coleslaw or try it all the way with cheese and bacon. 1901 Commonwealth Ave, Charlotte, NC 28205. 704-375-8959.
Treat the family with a stop at this popular drive-in that's been serving up smiles since 1955! You've got to try the signature South 21's Super Boy that includes two beef patties, mustard, onions, lettuce, and tomato served with fries for $5.95. Add two slices of cheese and make it a Jumbo Cheeseburger for $6.35 with fries. This simple and delicious burger got the attention of Guy Fieri of Food Network's Diners, Drive-Ins and Dives who chowed down the signature sandwich. 3101 Independence Blvd. 704-377-4509.
Pinky's Westside Grill is where all your burger dreams come true in genius combinations you didn't think were possible. Go big or go home with the White Trash Burger that starts with a fresh grilled burger (meat, turkey or veggie) then rocks it out with everything there is to love about everything including fried pickles, onion straws, Provolone cheese and spicy ranch. You're welcome. Charlotte and Huntersville locations.
Bad Daddy's is a relative newcomer to the burger scene having opened its first location in Charlotte in 2007, but you can't call yourself a Queen City burger aficionado without stopping here! Word about the burger bar spread quickly and today Bad Daddy's has 35 restaurants, including a spot in the Charlotte Douglas International Airport! Bad Daddy's offers 12 signature burgers and ways for you to order it just the way you want with a create-your-own-burger option. The most popular burgers to come out of the kitchen are the create-your-own and the Bacon Cheeseburger on Steroids (cover picture). Hungry yet? Multiple locations.
If you've been in Charlotte any amount of time, no doubt you've heard of – or stood in line for – a Brooks' burger. With cash in hand (there is an ATM on-site) walk up to the window, place your order then join the community of burger fans at an outside table digging into brown paper sack filled with yummy burgers and french fries. Tragically, Brooks' Sandwich House was in the news after co-owner Scott Brooks was killed on December 9. Happily, Brooks' is back and open for business Monday through Friday, 10 a.m.-5 p.m. 2710 N Brevard St, Charlotte, NC 28205. 704-375-7808.
Go classic, try something new and dig in! You won't walk away hungry.
Courtney McLaughlin is a freelance writer in Charlotte, NC who blew out her daily calorie allotment in the name of finding a great burger.