Best Bets for Stops With Kids Along the LYNX Blue Line Extension
Make a day of exploring the newest stops on the Lynx Blue Line extension.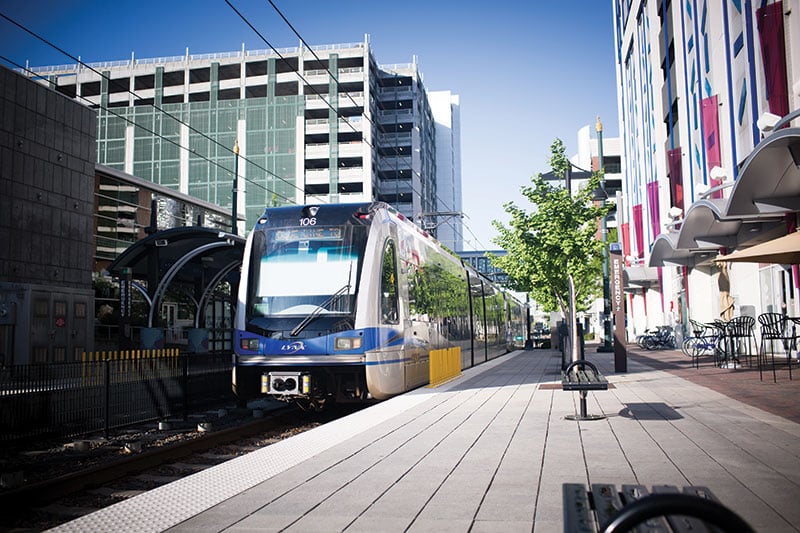 In March 2018, Charlotte Area Transit System (CATS) opened the extension of the Lynx Blue Line. The line now extends a total of 19 miles from the I-485/South Boulevard station in south Charlotte through uptown Charlotte on to the UNC Charlotte campus. The Blue Line extension adds 11 new stations and approximately 9.3 miles. Many commuters utilize the Lynx Light Rail for work, but children find riding the rails to simply be fun. Strollers are allowed on the train, but be aware that coaches are crowded during rush hour, which can make it difficult to have a stroller in tow.
Riding north from I-485 station to Charlotte Transportation Center Station in uptown takes approximately 25 minutes. Riding south from UNC-Charlotte Main to Charlotte Transportation Center Station takes approximately 33 minutes. Small children may find the ride a bit long, so have toys or books handy. Do not, however, reach for the snacks since food and beverages are not allowed onboard. Here are some suggestions for stops along the Lynx Blue Line extension.
---
Ninth Street Station
First Ward Park, 301 E. Seventh St., gives kids a place to stretch their legs. Pack a towel for playing in the fountains.
Light Rail Trail is perfect for those looking for a stroll. This 3.5-mile path stretches alongside the tracks, and the north end of it is near Ninth Street Station. Check the rail trail map to see which stop is most convenient for your trip.
---
Parkwood Station
Abari Game Bar, 1721 N. Davidson St., is filled with pinball machines and classic arcade games. Abari opens its doors to patrons of all ages on Saturdays and Sundays between noon and 5 p.m. Children must have a parent or guardian with them.
Birdsong Brewing Co., 1016 N. Davidson St., offers outdoor seating and daily food trucks. Stop in for a bite for the kids, and a quick rest for mom and dad.
---
25th Street Station
Amelie's French Bakery, 2424 N. Davidson St., took the 2018 Charlotte Parent Readers' Favorite top spot for where to get a sweet treat. It is open 24/7, which should fit any family's naptime, soccer practice and playdate schedules. Visit the flagship location for a macaron, cookie, pastry, croissant or sandwich.
Free Range Brewing, 2320 N. Davidson St., is another option for a bite and a brew. This family-friendly brewery even has an indoor kids' corner with toddler-friendly toys.
---
36th Street Station
Reigning Donuts, 3120 N. Davidson St., Suite 100, keeps kids happy. Do not expect a typical eatery but instead a fun walk-up window at the back of the building that is open Monday-Friday, 7 to 11 a.m. and 7 to 11 p.m. and Saturday and Sunday, 7 a.m. to 11 p.m.
Cabo Fish Taco, 3201 N. Davidson St., is a great spot for lunch or dinner. The restaurant offers a kids menu, and much more than just fish tacos.
---
University City Boulevard Station
Pelican's Snoballs, 7649 N. Tryon St., shaved ice comes in more than 100 flavors. From dill pickle to toothpaste, there is a flavor for everyone.
---
McCullough Station
University City Regional Library, 301 E. W.T. Harris Blvd., is just a half mile from the station. Pop in for a story time, or check out some books to read on the train.
IHOP, 230 E. W.T. Harris Blvd., offers a fun meal for the entire family. Kids cannot help but smile at a funny-face pancake. ihop.com.
Le Kebab Grill, 350 E. McCullough Drive, offers an expansive selection of Mediterranean cuisine, as well as a small children's menu. .
---
J.W. Clay Boulevard/UNC Charlotte Station
Dave's Paddleboats, 8933 J.M. Keynes Drive, rents paddle boats for $10 for 30 minutes of paddling at the University Place lake.
Ninety's Ice Cream, 9009 J.M. Keynes Drive, Suite 4, serves ice cream, shakes and homemade ice-cream sandwiches that taste as good as they look.
---
UNC Charlotte – MAIN Station
UNC Charlotte Botanical Gardens, 9090 Craver Road, is a half mile away from the train station. Take a stroll through the botanical gardens and be sure to visit the greenhouse to see the T-Rex sculpture.
---
Get Your Ticket to Ride
Children under 5 ride the Lynx Blue Line for free. Children in kindergarten through grade 12 pay $2.20 for round-trip fare. Adults ride round-trip for $4.40. Fares and schedules can be found at charlottenc.gov/CATS. Purchase tickets on-site at vending machines, which accept cash, credit cards and change cards, or pre-purchase tickets with the CATS Pass Mobile Payment App.
Blue Line schedules also can be found a charlottenc.gov/CATS. Google Transit with Google Maps can help passengers plan and navigate a route. Stations with parking include I-485, Sharon Road West, Arrowood Station, Archdale, Tyvola, Woodlawn, Scaleybark, Sugar Creek, Old Concord Road, University City Boulevard, and J.W. Clay Boulevard/UNC Charlotte. Most, but not all, lots are complimentary.
---
Tiffany Wolff is the calendar editor for Charlotte Parent and enjoys exploring the city with her two sons.