Best Apps for Kids (Ages 5-11)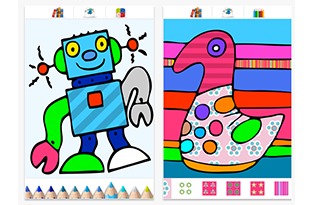 Colorama: Kids Coloring Book
With more than 700 drawings to choose from, children can create art and enjoy applause upon its completion. Pages can even be printed, e-mailed, or saved to a photo library!
For Android, iPhone and iPad, $0.99.
Diner Dash: Grilling Green
With the success of Flo's diner in your child's hands, they must strategize to efficiently prepare food and give customers a perfect dining experience.
For iPad. $4.99.
Mad Libs
A fun and educational app for the family, make everyone laugh by adding a silly and creative spin to 21 different stories.
For iPhone and iPad. Free.
Petting Zoo
Featuring beautiful and fun animations of over 20 animals, your little one can swipe and tap their finger to enjoy the animal's funny reactions.
For iPhone and iPad. $1.99.
Sky Map
Simply pointing the device at the sky will tell your child all about the stars, planets, moon phases, and constellations they can see at night.
For Android, iPhone, and iPad. Free.
Stack the States
Earning a state after each successfully completed level, your child will learn about capitals, shapes, geography, flags, and more while having fun!
For iPhone, iPad. $0.99.
Ansel and Clair – Cretaceous Dinosuars
Dig into geology, geography and paleontology with this app. Vivid images take kids back in time to meet a T. Rex and Velociraptor. Part of the dinosaur trilogy by Ansel and Clair. 4+.
iPad, $1.99
Laser Pegs
A virtual construction app based on the Laser Pegs building set that empowers kids to design structures in 3D and learn creative, abstract thinking, problem-solving, math skills and pattern recognition.
Available for iPad version 5.0 or later. Free.
Fat Brain
A fun trivia game with facts from 10 categories, including history, languages, sports and more.
For iPhone and iPad. Free.
StoryMaker
Get reluctant writers interested in telling stories with more than 800 illustrations of places, people and items to choose from, and the ability to add personal photos and drawings, plus record story text.
Free-$4.99.