Behind the Scenes: Charlotte Symphony Trombonist Thomas Burge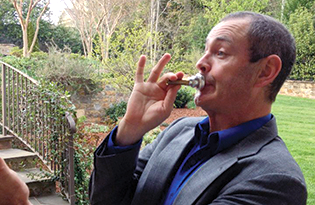 To prepare for concerts I like to find a quiet space so I can focus and get in the zone before I go on stage. At a Summer Pops concert, where I'll be playing outside, I have to be ready to play rain or shine. You might even find me in a hidden corner of the park going through my warm-up routine under the shade of a tree.
STEP 1: I stretch my muscles so I feel loose- just like an athlete might do. What I'm about to do in the concert requires the same focus that it takes to run 100 meters in 9.5 seconds, but instead of wearing a comfy running suit, I have to do it in a tailcoat, bow tie and dress shoes.
STEP 2: I do deep breathing exercises with a slow beat to relax and to prepare to use my lungs.
STEP 3: I sing the tunes I am about to play so my brain and my ears are flooded with the sounds I want to make. I fill my imagination with music. 
STEP 4: I make music on just the mouthpiece part of my instrument by blowing and buzzing my lips. It sounds a bit like a musical duck quacking!
STEP 5: Eventually I add the trombone and it always sounds better if I have made these plans first. If it still feels tense, or sounds less than perfect, I just repeat the earlier steps.
In the end, I'm rewarded with a fantastic performance that I get to share with my fellow musicians and the audience.
I look forward to seeing you at Summer Pops!
For more information on the Charlotte Symphony Summer Pops series, click here.