Behind the Scenes at The Singing Christmas Tree for KIDS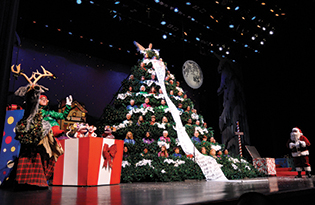 Creating a magical holiday experience for children is what Carolina Voices does each season through its popular Singing Christmas Tree for KIDS performances at Ovens Auditorium.
The show offers a one-hour showcase of singing, puppetry, dancing and a visit from Santa, perfect for children age 3 to 10.
Putting the production together starts early in the year under the direction of Drew Allison from Grey Seal Puppets, who creates the storyline and the puppets that star in the show; and Pete Leo, artistic director of Carolina Voices. We asked Allison about how the process works.
Can you give us a sneak peek at the storyline for this year's Singing Christmas Tree for KIDS?
Our concept this year is the idea of "Where is Christmas?" Sure there's Christmassy things happening all around us, but really, where is Christmas? Is it at the North Pole? Is in Bethlehem? Where is it? Our protagonist, Roquefort the Mouse, feels he must find out and sets out on a trip all the way around the Singing Christmas Tree to discover the truth. Turns out Christmas has been right under his nose the whole time!
When did you start working on this year's script?  
Earlier than folks think. We usually start batting ideas and concepts around in the spring and meet with Carolina Voices in early summer. When I tell people that I'm heading to a Singing Christmas Tree meeting and it's the middle of May, they are stunned.
Who builds the puppets we see on the stage in The Singing Christmas Tree for KIDS?
At Grey Seal Puppets we have always designed and built our own characters. That has always been part of the allure of puppeteering. As a puppeteer, you can take an idea all the way through the creative process, from thinking of the initial concept to performance.
How many puppeteers do you use on stage to create the characters in the show? And when will rehearsals start? 
Each year we look at our performance concept, then the outline and the final script to determine the number of puppeteers needed. This year we will be using four puppeteers to perform the puppets. We usually begin our rehearsals in mid-November.
For more information on The Singing Christmas Tree for KIDS, visit carolinavoices.org. For more information on Grey Seal Puppets, visit greysealpuppets.com. 
Enter to win
Enter to win tickets to The Singing Christmas Tree for KIDS in the Roquefort the Mouse Coloring Contest.
Click here