Be Mine: Cooking for Your Valentine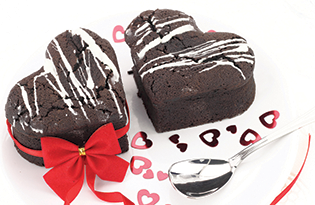 Here's a recipe kids of all ages will love. Rich and chocolaty, these soufflés are amazingly easy to make and bring ooohs and aaahs to the table. Younger chefs can help with each step, from preparing the individual ramekins to melting chocolate, beating egg whites and finally folding the whipped whites into the rich chocolate base. Mom and Dad, your job is to help getting things in and out of the oven.
I serve these year-round in 2 1/2- or 2-inch ramekins; but for Valentines Day it's fun to use small heart-shaped ceramic molds for baking and serving.
You'll find the ovenproof heart molds in houseware shops or places like Homegoods, Pier One or World Market.
> Valentine Chocolate Souffles Recipe