Basketball Legend Michael Jordan Scores Big With Teachers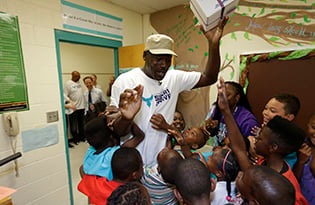 Michelle Massey and Sarah Norris had big ideas for implementing new strategies and programs in their classrooms, but they didn't have big funds to make it happen. That's where Michael Jordan comes in.
In June, the Charlotte Hornets and Fox SportsSouth joined together to make an initial $250,000 investment for the creation of the Teacher Innovation Fund. It was unveiled at a publicity event at Hornets Nest Elementary School, where Massey and Norris — who teach third and first grades — each received a  $5,000 donation.
Massey would like to implement a Classroom iPad Library, a checkout system for students to access pre-downloaded educational apps and reading material on tablets. Norris seeks to provide calendar math journals and six magnet whiteboards.
"We wanted to make as much of an impact as possible with our first community initiative as the Charlotte Hornets, and we think the establishment of the Teacher Innovation Fund did just that," says Kim Henderson, executive director of the Charlotte Hornets Foundation. "We want to support teachers' creativity and innovation because we believe these aspects of teaching are vital to our community."
Fox Sports and Lowe's have already contributed to the fund and others are likely to join soon, say team officials. The intention is to provide $70,000 a year in grants to local teachers to use for innovative approaches to teaching. Grants will focus on STEM, literacy, character education and cultural arts, among other programs. The grants, which range from $1,000 to $5,000 will be awarded twice a year—in November and March.
Michael Jordan, who has indicated he would use his name and the team's popularity to attract other corporate donors, told "The Charlotte Observer," that in order to have an impact on tomorrow, you must start by helping teachers today.