Barbecue Beef-Filled Biscuits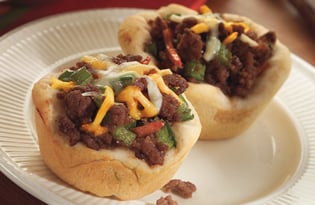 Barbecue Beef-Filled Biscuits
Makes 8
(Kraft Foods)
Ingredients:
1/2 lb. extra-lean ground beef
1 small  green pepper, finely chopped
1 small red pepper, finely chopped
1/3 cup  Kraft Original Barbecue Sauce
1 can (7.5 oz.) refrigerated buttermilk biscuits
1/2 cup  Kraft Mexican Style Finely Shredded Cheddar Jack Cheese
Preheat oven to 375ºF. Brown meat with peppers in medium skillet. Remove from heat and stir in barbecue sauce. Separate biscuits, and press one biscuit onto bottom and up side of each of eight muffin cups. Spoon meat mixture into biscuit cups; press into cups with back of spoon. (Filling will be mounded.) Bake for 10 minutes or until biscuits are lightly browned. Top with cheese; bake 3-4 more minutes or until cheese is melted.