Barbara Ann Temple: Connecting Students to Art
Get to know the driving force behind the Arts & Science Council's Studio 345.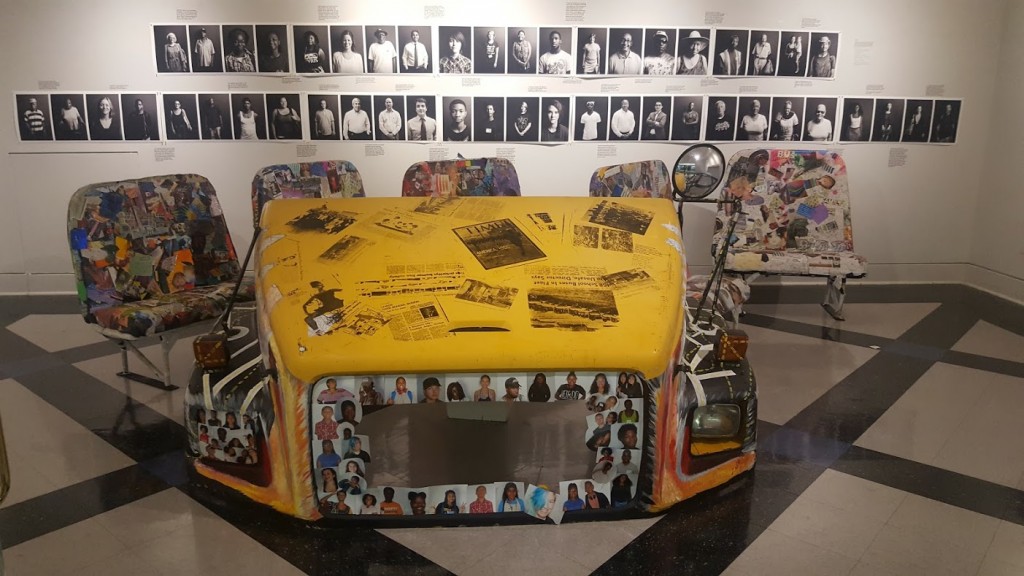 The Arts & Science Council Studio 345 program is laser focused on leading the youth of Charlotte toward the pathway of success through a mentor-lead after-school arts program. At Studio 345 CMS High School students enroll for a trimester filled with art studies. They learn career-ready skills in the areas of digital photography, digital media arts, multimedia design, music production, screen printing, and pod-casting. The value and impact that the Studio 345 program is having on Charlotte-area teens is in the numbers:
In the past three years, 100 percent of the 90 high school seniors enrolled in Studio 345 graduated from high school.
During the 2013-2014 school year, there was a 50% reduction of in-school behavioral incidents from students enrolled in Studio 345.
Left to Right: Angela Grauel (Studio 345 program coordinator)
and Amy Mitchell (ASC
marketing and communications) in the Studio 345 recording studio sharing insight about the impact of the after-school program.
This strong correlation of student academic and behavioral success and arts programs is a proven formula according to a decade long Stanford University nationwide study lead by linguistic anthropologist Shirley Brice Heath. After observing 30,000 young people participating in 124 non-school programs (athletic-academic, community service, and arts-based programs) in 301 locations from Massachusetts to Hawaii, patterns were uncovered between after-school arts programs and at-risk student achievement. According to the Stanford study, youth who were enrolled in after-school arts programs were:
Four times more likely to win an academic award, such as being named to the honor roll.
Eight times more likely to receive a community service award.
Three times more likely to win a school attendance award.
Four times more likely to participate in a math or science fair.
Behind all the numbers that show an after-school arts program puts students on a path toward success, there is always a person at the helm that truly cares about the young people in the program, who works hours on end to build community connections to ensure the program grows for future participants. At the Studio 345, that person is Barbara Ann Temple, the vice president of education for the Arts & Science Council. Barbara Ann took time out of her day to share insight about her role with Studio 345.
Barbara Ann Temple, Ph.D., vice president of education for the Arts & Science Council
Please describe what you do on a daily basis in your role within this organization?
My No. 1 priority is making arts, sciences, history and heritage central to PreK-12 education. My team and I serve as the human connector/broker between the cultural sector and public, private and charter schools. We seek access and parity in classrooms across the county. We have three roles within ASC: programmer, funder, connector/promoter.
---
Who does this program serve? Please explain why that particular population was selected.
The Studio 345 program serves Mecklenburg County Charlotte-Mecklenburg Schools students with 15 spots reserved for Project L.I.F.T. students, and 15 spots held for court involved youth. Our focus is on the Mecklenburg County student population since this county is a regional hub. Mecklenburg County also supports the program.
---
Where is the program located? Why was that location selected?
The Studio 345 student-focused portion of the program is located in uptown Charlotte inside Spirit Square, but the behind-the-scenes business dealings occur at the ASC office on West Trade Street. The program and the administrative arm behind it is located in uptown Charlotte because it is a central location to the cultural sector.
---
Why did the Arts & Science Council start this program?
It's an opportunity to serve a greater number of teachers, students and parents in pursuit of social justice through the arts lead ASC to open what has become Studio 345.
---
How can others become involved or contribute?
Studio 345 is open for high school students in Mecklenburg County. Adults could become involved in visits to cultural learning experiences in schools across the county. Parents can get in touch with PTAs and PTOs to see how they could support making the arts, sciences and history a part of every students education at their respective schools.
---
With all the many tasks and multiple hats that comes with nonprofit work, could you please provide insight about your work-life balance?
I train for half marathons, grow and cook organic food, and spend time outdoors. I also write fiction and nonfiction, and enjoy watching black-and-white films. I also enjoy spending time with family and pets, and experiencing the arts in Mecklenburg County.
---
What strategies, tools, tips and life-hacks do you use to balance your work-life, personal-life and philanthropic-life?
Family and self-health first, always. I believe in doing what makes your heart truly sing, and don't settle for mediocrity or second best. You should use personal treasure to benefit the lives of others, especially for those who truly need help.
---
Anything else you would like to add?
We will let the young people tell you all about the Studio 345 experience.
Learn more about how to become involved with Studio 345 online at artsandscience.org