Banner Elk, Beech Mountain Hosting Mile High Fourth of July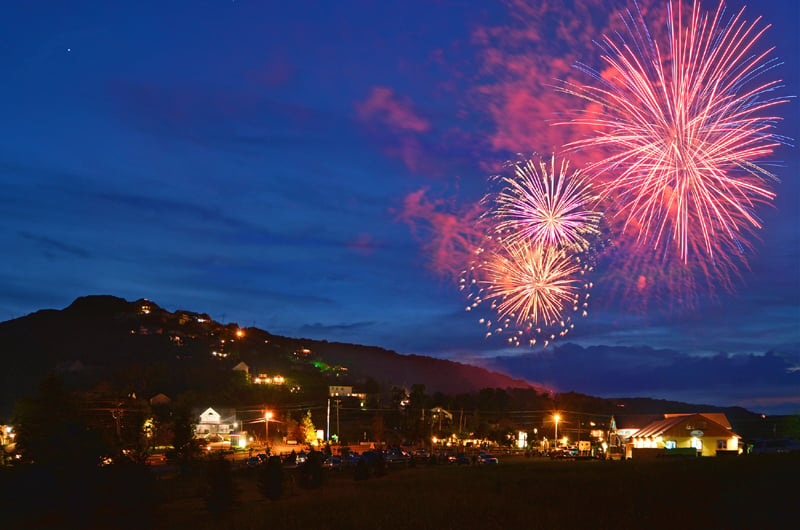 The second annual Mile High Fourth of July, a five-day celebration featuring live music, parade and fireworks, will be held June 30-July 4 in Banner Elk and Beech Mountain. Only four miles separate the High Country towns, so travelers and residents can easily enjoy the patriotic festivities in either location.
One longtime Independence Day weekend tradition is Beech Mountain's 47th annual Hog Roast on Saturday, July 1. Event organizers are expecting that 1,300 people will come out to enjoy hickory-smoked pork and turkey. Afterward, fireworks light up the sky above the summit of Beech Mountain.
"It's a huge event that includes residents and visitors," says Kate Gavenus, Beech Mountain tourism director. "On the Fourth of July, you normally think of how hot and humid it is, but at our elevation, you avoid the heat and humidity."
On Tuesday, July 4, Banner Elk's signature Fourth of July Parade heads down Main Street and finishes in Tate-Evans Town Park, where Party in the Park continues throughout the afternoon. Kids and adults take part in lawn games, such as egg tosses and sack races, and a rubber duck race down the creek.
"The Fourth of July in Banner Elk is truly what you would expect in a small town," says Nancy Owen with the Town of Banner Elk. "It's just simple, down-home, family fun."
Music plays a prominent role throughout Mile High Fourth with eight bands performing. Live music at Banner Elk Cafe kicks off the weekend on Friday evening. The fourth annual Blues on Beech takes place Saturday at Fast Eddie's, and on Monday, The Rockabillys bring a variety of rock 'n' roll tunes to the Beech Mountain Kite Field. On Friday, Saturday and Sunday, Lees-McRae Summer Theatre presents "Joseph and the Amazing Technicolor Dreamcoat" at Banner Elk's Hayes Auditorium.
The popular Art on the Greene returns to the Historic Banner Elk School, showcasing handmade arts and crafts. Beech Mountain Resort offers scenic chair-lift rides and Mile High Yoga atop the mountain. Additional activities include hiking, mountain biking and swimming.
For more details, call 800-468-5506 or 844-824-6777 or visit the event website.