Backyard Camping for the Great American Campout
You don't need any camping gear to go camping in your own backyard.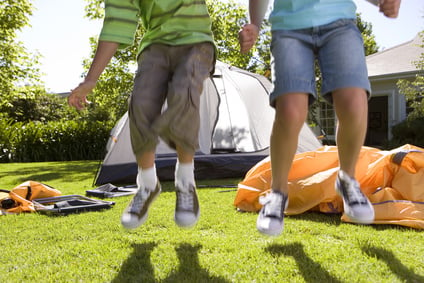 You might like to get your kids outdoors and think that camping would be a great way to do it.
Before you go shopping for a lot of camping gear or ask an Eagle Scout to guide your first expedition, consider lowering your ambition quotient.
Get started in your own back yard
If you don't know how to get started camping, you're not alone. That's why the National Wildlife Foundation suggests camping in your own back yard for the "Great American Campout" on Saturday, June 25.
Be sure to use #campout2016 to share your experiences in the great outdoors.
What equipment do you need to camp in the back yard?
It doesn't take any NEW equipment to spend a night under the stars. This WikiHow will show you how to make a tent or fort from sheets and chairs.
Download "Camping for Beginners"
for parents just like you. It includes:
How and where to find a great campsite or campground (even if you don't own camping gear)
What to do while camping, including over a dozen games and activities
Minimal packing list (for camping anywhere except your own backyard)
Who knows, once you've spent a night camping in your own back yard, maybe you'll be ready for more outdoor adventures.
I take my tent and camping gear with me on all my long road trips. I sometimes pull into a safe, managed campground for a quick 5-6 hours of sleep and take a shower in the bath house before hitting the road again. You can't beat that for $30!