Back to the Books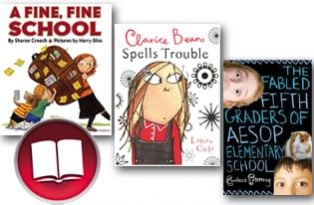 It's almost time for alarm clocks, busses, notebooks, and schedules, which means it's back-to-school time. It's been a super hot summer, so many may be ready for the coolness of the classroom. As the new school year begins, Charlotte Mecklenburg Library has some book ideas to get kids reading. Visit a local branch to check out these books, and get to know your librarians and use them throughout the school year.
"Clarice Bean Spells Trouble" by Lauren Child
Grades K-3
Clarice Bean is a typical child who views the world like most children. In her attempt to win a spelling bee, she becomes almost as naughty as the naughtiest boy in school due to her frustration over the English language like why isn't "why" spelled "y." An entertaining chapter book with a character that kids can relate to.
"A Fine, Fine School" by Sharon Creech.
Grades 1-3
The principal, Mr. Keene, loves his school so much that he thinks the children should go to school every day. The students and teachers love their principal and don't want to hurt his feelings, but a little time off is always necessary. Kids will like this book for its twist on student how the problem is solved so all are pleased.
"My Weird School Daze" series by Dan Gutman
Grades 3-5
It's tough to keep young readers engaged. Through hilarity and creative writing, this series encourages beginning readers to develop a habit of reading now so they'll continue as they get older. The newest "My Weird Days # 10" arrived in late July.
"The Fabled Fifth Graders of Aesop Elementary School" by Candace Fleming
Grades 3-5
Mr. Jupiter is the best teacher you can get in fifth grade, and his students are very … special. The crazy things they experience during the year, including a guinea pig with unusual traits for a class pet, engage and entertain children the entire time they are reading.
"Sideways Stories from Wayside School" by Louis Sachar
Grades 3-5
A timeless favorite filled with humor. Boys and girls alike will enjoy reading about students at the school that was accidentally built sideways with each classroom on one floor. A quirky story that delights young readers and is fun for parents to read aloud.
Arden E. McLaughlin is the educational partnerships coordinator at Charlotte Mecklenburg Library System and always loves to share a good book.