Back to School… With Less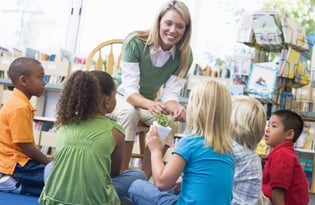 As North Carolina school systems struggle with a third year of severe education budget cuts, administrators say parents' help and support is needed more than ever to minimize the impact on children. Superintendents across the state have cut millions from school budgets, which means students are facing everything from longer school bus rides to less extra help at school.
Speculation about education budget cuts across North Carolina was rampant this year, with worst-case scenarios calling for hundreds of teacher layoffs. When the N.C. legislature passed its budget in June, however, many school leaders breathed a sigh of relief that the cuts were less than anticipated. The state's largest school systems have been able to preserve many teacher and teacher assistant jobs, cutting elsewhere instead.
"Nobody is happy with a 6 percent cut in funding (in Wake County public schools), but there were a lot of rumors of 10 percent, and I would just say, 'Steady in the foxhole, let's wait,'" says Wake County Public School System Superintendent Anthony J. Tata.
The effects of the budget cuts are being felt in different ways across the state. In Wake County, for example, the system's central office is losing 43 positions so that the teacher-to-student ratio remains the same. In Charlotte, many elementary schools are starting earlier or later to save money on transportation, and several middle schools sports have been cut.
In Winston-Salem/Forsyth County Schools, foreign language classes in elementary schools are being cut, and high school and middle school class sizes are to increase.
Teachers Saved, Enrollment Increases
While school systems focus on saving teachers' jobs, growing school systems likely will have to make room for hundreds or thousands of new students this fall.
Charlotte-Mecklenburg Schools restored hundreds of teacher positions after the state cut $30 million less than anticipated, and Mecklenburg County awarded the schools an additional $26 million originally removed from the 2011-2012 school year budget. That means teacher assistants and support positions, such as media specialists and school counselors, are protected.
"We're incredibly thankful to the county for the additional support they gave us," says Eric Davis, CMS school board chairman. "That combined with the state's cuts not being as bad as they originally forecasted is helping us preserve about 1,000 positions."
CMS leaders also say that there is now enough money to hire more teachers that could reduce high school class sizes.
In Wake County, more teachers are being hired in 2011-2012 to preserve class size as enrollment goes up, says Tata. The school system also is adding programs to make all of its schools as desirable as possible, and reorganizing its central office.
"We have a $1.2 billion budget, and my priorities within that budget are to protect teachers and classrooms first," says Tata.  "(That commitment) will minimize the impact of the budget on parents and students, which is the overarching goal."
The cuts are coming primarily from layoffs in Wake County's central office. The system also is reducing its janitorial staff and removing one clerical position from each school.
Guilford County leaders say the system has saved money in preparation for another year of budget reductions. The school system was expecting about $33 million in cuts; it ended up cutting $18 million. The school system did not cut full-time teaching jobs, and is not requiring teachers to take salary reductions or furloughs. It is able to keep classroom sizes about the same.
"We have tried to reduce our impact to the classroom," says Sharon Ozment, chief financial officer for Guilford County Schools. The system is losing 64 positions, including 15 custodian jobs.
Cuts Felt Elsewhere
School systems still had to find ways to remove millions from the 2011-2012 budgets. In Charlotte, the school board chopped about $50 million. That means another year of no funding for middle school sports, although the system recently found enough money from other sources to restore eight of the 13 sports.
Other budget reducing measures include school closings or consolidations, and 45 minutes has been added to the elementary school day to streamline school bus usage. CMS also is reducing its maintenance staff.
"The grass will get longer, fewer people will be cleaning the schools, and the schools will be warmer in the hotter months and colder in the winter months because our thermostats will be adjusted to save money," says Davis.
Guilford County has maintained cuts to its central office and supplies budget, although school leaders say this may be the last year they can absorb such cuts without making significant changes. If 2012-2013 brings similar cuts, education leaders across the state say widespread teacher layoffs likely are unavoidable.
"The system is under so much strain, and for the students who need the additional support the most, it's going to be so difficult for our staff to provide that support so that they can continue to show academic progress at the rate (we'd like)," says Davis.
Less Funding for Pre-K
Education for the youngest – and often most needy – students has been the topic of intense discussion this year. Pre-kindergarten programs are also undergoing cuts and changes.
Charlotte's Bright Beginnings program, a public-school preschool for at-risk children, is closing its preschool centers because of budget cuts, says Davis. The program is not losing seats, but all Bright Beginnings classrooms are moving into elementary schools.
"We're doing the best we can to try to put those classes into schools close to where they live, but depending on how that shakes out, some students might have to go to a school that's not as close to them as a center," says Davis.
More at Four, a highly regarded pre-kindergarten program that focuses on helping underserved children get ready for school, has been cut 11.5 percent and was moved from the N.C. Department of Education to the N.C. Department of Health and Human Services' Division of Child Development. Now, the program is known as NC Pre-Kindergarten.
School leaders say that budget cuts coupled with a legislative requirement that the program charge qualifying families a copay could cripple More at Four, which now serves about 40,000 children in North Carolina.
While some worry that NC Pre-Kindergarten will become subsidized child care rather than an educational program, others are more optimistic.
"The Division of Child Development has said they expect all of the quality components to remain in place," says Jean Goodman, executive director at the Guilford County Partnership for Children, the local agency that administers early childhood development funding. "Absolutely, we'll have a high-quality pre-k program. We don't know all of the details (yet), but parents should go ahead and register their children if they qualify." At press time, administrators still were figuring out how to allocate pre-kindergarten money, whether the number of slots would be reduced and how much the program would be subsidized.
What Parents Can Do
Parent participation is more important than ever as schools try to offer the same level of education with fewer resources. Here are some things you can do to help.
Go virtual. World language and advanced placement classes in high schools have been some of the first to go, and many students are turning to online classes to fill the void. North Carolina Virtual Public School, (www.ncvps.org) which opened in mid-2007 and serves about 46,000 students annually, has seen steady growth of between 35 and 50 percent in the last few years, says David Edwards, chief communications and professional learning officer. Especially popular are the language classes, such as Latin, Spanish and Mandarin Chinese.
"The parents have been very pleased with our instruction and our model," says Edwards. "The biggest feedback we get is their student has the opportunity to take an additional course that was not offered locally."
The virtual school, based in Raleigh, is expanding its advanced-placement level course sections, and debuting more classes that focus on science, math, technology and engineering.
Help out at home. Teachers may be stretched thin with larger classes or less help from teacher assistants. Parents can help by making sure their child is doing his or her homework, and keeping up with classroom assignments.
Take on little tasks. Teachers spend precious time on administrative work, such as changing out bulletin boards and hanging student artwork in the hallway. Regularly ask teachers if you can help them with these tasks to free up more time for them to spend in the classroom.
Keep teachers supplied. When teachers run short on classroom supplies, they may be too shy to ask parents to pitch in, says Mary McCray, outgoing president of the Charlotte-Mecklenburg Association of Educators and a retired elementary school teacher. Ask teachers what they need, and ask them to periodically email their supply lists to parents. Don't forget non-classroom instructors, such as media specialists and PE teachers – they may need supplies as well.
Organize a workday. Most school systems are cutting back on custodial and maintenance services, and parents can help with everything from landscaping to trash pick-up. A group of parents that dedicate a Saturday morning to school grounds work can make a big difference.
Volunteer – and bring a friend. Schools have many opportunities to volunteer, and principals or PTA leaders can help match your skills with volunteer jobs. Some schools already have specific needs, such as elementary schools in Union County that are losing media assistants, says Union County Public Schools Superintendent Ed Davis. Consider volunteering in high-needs schools, where help is needed the most.
Ask grandparents, Sunday School teachers or other community members who might have free time to volunteer. Schools often have regular volunteer shifts, such as weekly tutoring.
Help find other funding. Many schools have formed committees to write small, targeted grants for money from corporations and foundations that can help with projects such as a school garden or playground equipment. Also check out www.donorschoose.org, where visitors can fund local teacher projects.
Participate in school fundraisers. Some community members are taking the lead in raising money for specific programs, such as saving middle school sports in Charlotte. Visit www.SaveMiddleSchoolSports.com to learn more.
Stay Calm, Stay Informed
Keeping up with the news on educational budget cuts can foster understanding of the situation rather than the anger and frustration that many parents feel as encounter schools and teachers struggling to make do with less.
"Be aware of the challenges that the teacher faces," says Davis. "Just a little bit of grace and support would go a long way toward helping our teachers serve more students."
Marty Minchin is a freelance writer based in Charlotte.
Fitting in 5 More Days
When the N.C. legislature passed its budget in June, it threw in a surprise: a requirement for schools to add five instructional days to the calendar without lengthening the school year.
School systems have been advised to convert five teacher workdays into instructional days. CMS requested a waiver on the additional five school days until 2012-2013, asking that teachers attending training and development programs on teacher workdays fill the requirement.