Baby Pumpkin Cheesecakes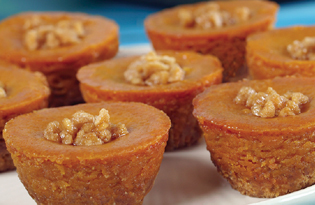 When Thanksgiving guests arrive, have a little something special for them to gnosh on. These Baby Pumpkin Cheesecakes are easy to make and a satisfying sweet bite. The pure maple syrup gives them a unique sweetness and more dimension for the tastebuds. Make them extra kid-friendly by creating pumpkin faces on the cheesecakes using melted semisweet chocolate and some of the batter. Though a nice touch, if time doesn't allow, use store-bought decorating frostings in the tube. It was a whole lot easier and is something you can do with your kids. (From the Federation of Quebec Maple Syrup Producers).
Yield: 24-30 mini cheesecakes, depending on pan
Difficulty: Medium easy
Prep time: 1 hour
Cook time: 20 minutes to cook, 30 minutes to cool
Ingredients
Crust:
1/2 cup graham cracker or chocolate cookie crumbs
2 tablespoons pure Canadian maple syrup
2 tablespoons butter, melted – lessen as needed
Filling:
12 ounces cream cheese, softened
3/4 cup pure Canadian maple syrup
2 large eggs
2 tablespoons semisweet chocolate, melted
1 cup fresh or canned pumpkin puree
1 1/2 teaspoons ground cinnamon
1/4 teaspoon ground nutmeg, optional
1/4 teaspoon salt
1/8 teaspoon allspice
Garnish (optional): 1/2 teaspoon of maple sugar (to taste)
Directions
Preheat the oven to 325 degrees. Spray each cup of mini cheesecake pan with cooking spray or lightly grease with butter. Set aside.
To prepare the crust: In a small bowl, mix together crumbs, pure Canadian maple syrup and butter. Spoon a think layer of crust filling into each cup. Using the handle of a whisk or spatula, pat crumbs down flat.
Bake the crusts until set, about 8-10 minutes. Remove from oven and reduce heat to 300 degrees.
To prepare the filling: In the bowl of an electric mixer, blend together the cream cheese and pure Canadian maple syrup. Scrape down the sides and bottom of the bowl, and add the eggs one at a time, mixing until smooth.
If piping pumpkin faces out of filling: Remove 1/4 cup of batter and mix with the melted chocolate. Set aside. If not, skip to next step.
Add the pumpkin puree, cinnamon, nutmeg (if using), salt and allspice and mix until smooth. Pour the batter into a large measuring cup or container with a pour spout and divide among the cups to 3/4 full. Use pastry bag to pipe faces onto the cakes by placing the tip just below the surface of the filling.
Bake the cakes for 16 to 20 minutes or until set around the edges with a dime-sized middle that still looks soft. Remove from the oven, and cool for 30 minutes or so before refrigerating. Cover and refrigerate for several hours. Unmold cheesecakes.
Tips
Note: You may have leftover crust filling. Store in freezer. Keeps well.
Pumpkin faces: To create the pumpkin faces on the baby cheesecakes, melt 3/4 ounces of semisweet chocolate and add it to 1/4 cup of the cheesecake batter and then pour it into a pastry bag. Once the cheesecake batter is divided among the cups in the cheesecake pan and before baking, pipe the chocolate batter onto pumpkin faces.
Or another option is to decorate the pumpkin cheesecakes after they came out of the oven using store-bought decorating frostings in the tube. It was a whole lot easier and is something you can do with your kids.