Avoid the 'Summer Slide'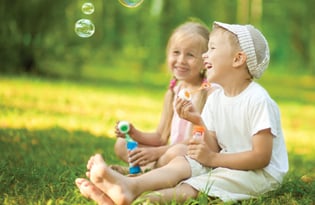 It's summertime, and the living is easy. Some educators would say too easy. Indeed, research shows that children's learning slides when school's out. This is especially true for critical subjects like reading and math. The "summer brain drain" is so pervasive that, come September, teachers have to devote precious time to helping kids learn lost skills, leaving less time for mastering new ones.
By finding learning opportunities in your family's everyday routine, parents can foster reading, math, science and critical thinking skills while still having fun all summer long.
Try these five easy ideas to help your kids catch up or get a head start for the next school year.
1. Be a Math Model. Show your child how you use math in your everyday life. For example, "I'm going to run on the treadmill for one hour. How many minutes is that? Wow! That's 60 minutes!"
Taking a road-trip to visit relatives? Play a numbers game to practice basic skills like division and multiplication. "We live 300 miles north of Grandma's house, and the speed limit's 60 mph. So, how long will it take us to get there?" Even a short bike or car ride around the neighborhood offers learning opportunities. "So your friend's house number is 480. We just passed 470. How many more houses until we get there?"
2. Shop and Learn. Grocery shopping is perfect for reading and writing practice, and for bringing math concepts like geometry, patterns and comparison to life. Planning a cook-out? Have your kids write the shopping list. Then when you're at the store, sneak in some basic multiplication. "So there'll be 16 people coming over and there are only eight hamburger buns in this package. That means I need to buy two." When you get home, have your children sort packages by size or shape before putting food away.
3. Cook Up Some Calculations. Get your kids involved in preparing family meals to help them build their self-confidence and practice fundamental skills. If he can, have your child read the recipe and set out all the ingredients in advance.
Younger kids can help with measuring and food prep. Questions will help kids see how real-life math works. "We're supposed to cook these brownies for 45 minutes. It's 2 o'clock now. So what time will they be ready?" Or "Your brother's bringing a friend home for dinner. Can you help me figure out how to divide this pie into six pieces?"
4. Plant a Garden. Planning and taking care of a garden is a great learning experience. Gather seed catalogues, and have your children read the plant descriptions and compare different varieties of the same plant. Use hands-on activities and questions to make math concepts real. "Which one has more seeds in the package? Which one costs more?" Help your children use a calendar to figure out planting and harvesting times. "The cucumber plants take eight weeks to mature. So if we plant them on July 1, when can we start making pickles?" "We planted five tomato plants. Each one should produce at least 10 tomatoes. How many do you think we'll grow by the end of the summer?"
5. Seize the Science Moments. When playing sports or games together, help your family explore some of the laws of physics. Head outdoors with bubbles, paper airplanes or pinwheels, and have fun talking about science concepts like elasticity, wind power and buoyancy. Use questions to get your kids thinking about the science behind sports like bowling, croquet and swimming. "Why do some pins fall even when the ball misses them?" "What makes one croquet ball move when another one hits it?" "Why do some objects float but others don't?"
Justine Ickes, a mom of two energetic vacation-loving boys, blogs about travel, culture and parenting at www.travelingmom.com and at www.cultureeveryday.com.