Autumn at Oz
Follow the yellow brick road to Beech Mountain and the Land of Oz.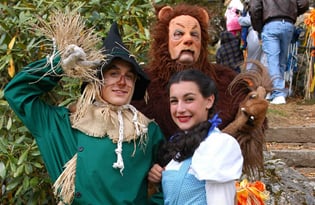 In the 1970s, Beech Mountain was home to the Land of Oz theme park, a popular family destination with rides and attractions, including the infamous yellow brick road based on the classic book "The Wonderful Wizard of Oz" by L. Frank Baum. Eventually the park closed, but its spirit remained, and the owners decided to open it to the public once a year for a special celebration to help keep the magic of the Land of Oz alive.
The Autumn at Oz experience starts as soon as you walk through the gates decorated with "We're Off to See the Wizard." From there, you can immerse yourself in the entire Oz experience, starting with Uncle Henry's farm and a replica of the house that is lifted by the tornado. The tour takes you through Dorothy's house, where you experience a storm of your own in the tornado room. After the storm, you find yourself in a crooked house, and then you walk out into Munchkin land, and just like Dorothy, you're at the beginning of the yellow brick road.
The craggy trees that grow along the windblown mountainside make you feel just like Dorothy walking through the forest, in a land that looks somewhat like home and yet so different. Along the way you meet the Scarecrow, the Lion, the Tin Man and even the Wicked Witch of the West, ending up at the Emerald City, where the Wizard is waiting.
The event also includes a tour through the Land of Oz museum, as well as a village where you'll find food vendors, live music, and face painting and a petting zoo for the kids.
"People who came to the Land of Oz when it was a theme park bring their children and now their grandchildren, passing on stories and sharing traditions," says Frances Leidy, co-owner and event operator. This year marks the 20th anniversary of the Autumn at Oz party, taking place Oct. 5- 6, and it promises to be a special event.
---
Autumn at Oz
October 5-6
Beech Mountain
autumnatoz.com
828-387-9283
Ticket prices: $20 in advance, $30 at the door, children under 2 free. VIP tickets are $50.
---
Experiencing Oz
Autumn at Oz isn't your only opportunity to visit the Land of Oz. Though it is a private property, it is available for events and rentals during the year. Contact Emerald Mountain Realty at 828-387-2000 or emeraldmtn.com.