At Home in Hendersonville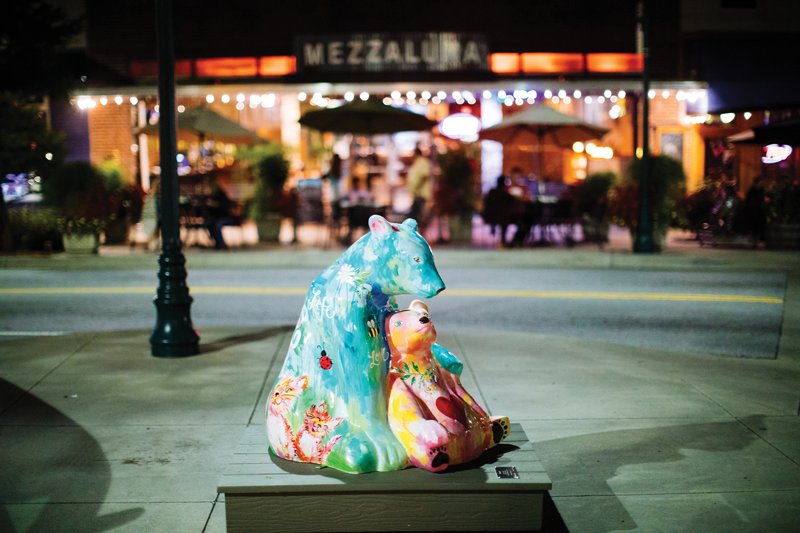 Known for its mountaintop orchards, Hendersonville has been home to the annual North Carolina Apple Festival for more than 60 years and is the largest apple-producing county in the state. But there's more to explore than apples in this charming town.
At 2,200 feet above sea level, changing leaves make Hendersonville a popular destination in the fall, although its sweeping mountain views are beautiful year-round. The town's "Home for the Holidays" series of events makes December an ideal time to drop in for a spell, too.
Home for the Holidays
Main Street shop owners go all out for the holidays in Hendersonville's historic downtown, adorning shop and restaurant windows with decorations, hanging big red bows from streetlights and filling planters with twinkling lights. An ice-skating rink, carriage rides, holiday concerts, a Christmas parade and more holiday fun welcome natives and visitors alike.
Go on a Bear Hunt
As it winds through a ridge of the Appalachian Mountains, downtown Hendersonville is also studded with a unique collection of whimsical bear statues. Called "Bearfootin' in Hendersonville," the statues are auctioned off each October. Visitors — and locals —enjoy going on a "bear hunt" to track down the statues. Pick up a bear map at the Hendersonville Visitor Center.
While you're downtown, stop by Hands On!, an interactive children's museum for ages 1-10. Kids can "shop" in a play grocery store, dress up and perform on stage or in the puppet theater, or scoop ice cream from behind the counter of a miniature Kilwins ice cream shop. Admission is just $5, and the museum is open Tuesday through Saturday.
Learn About Land and Sky
The western North Carolina mountains offer some of the best places to learn about gemstones, minerals and geology. Choose from a variety of gem mines, where you can buy a bag of dirt and use a screen and sluice to search for amethyst, emeralds, garnets, sapphires and rubies. Try Elijah Mountain Gem Mine, which features a covered outdoor sluice, plus an indoor sluice, so you can mine year-round.
Celebrate North Carolina's "first in flight" bragging rights with an up-close look at vintage airplanes at the Western North Carolina Air Museum. Kids can climb into various vintage and replica antique planes, then wander outside to the runway, since the museum sits adjacent to an active airport. Weekend visitors might get a chance to see a vintage plane in action — and possibly even catch a ride.
Explore Art and Culture
Nearby Flat Rock is home to Flat Rock Playhouse, which refers to itself as "The State Theatre of North Carolina." Established in the 1940s, the playhouse offers a nine-month season featuring Broadway musicals, comedy, drama and plays for young audiences. Recent family-friendly performances include "The Little Mermaid" and "You're a Good Man, Charlie Brown."
Across from the playhouse sits the Carl Sandburg Home National Historic Site, which celebrates the Pulitzer Prize-winning poet, historian and author. Sandburg's estate, Connemara, is managed by the National Parks Service, which offers guided tours of the house ($5 for ages 16-61, $3 for ages 62 and older; and free for ages 15 and younger). Connemara was built in 1838 and includes Sandburg's massive collection of 12,000 books. The home has been preserved to look the same as when Sandburg lived there. The house is currently under restoration, so furnishings have been moved to storage until 2018. The 264-acre park also offers 5 miles of hiking trails, a farm with dairy goats and plenty of places to explore.
Hendersonville's holiday spirit, agricultural roots and mountain charm make it a must-see town for North Carolina families interested in a relaxed, low-key day trip or weekend destination.
---
Aleigh Acerni is a freelance writer who lives in Charlotte with her husband and 3-year-old daughter.